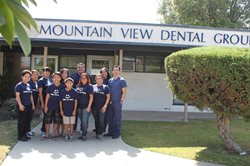 El Monte, CA (PRWEB) March 23, 2016
Dr. Emily Letran and staff will host this complimentary event supporting local residents by providing the community with free dental services on Tuesday, March 29th, 2016. El Monte and San Gabriel Valley locals are invited to receive free dental care at Mountain View Dental Group in El Monte.
From 8:00 AM to 4:00 PM on Tuesday, March 29th, 2016, Mountain View Dental Group's dental team will donate their time and resources to provide veterans and patients from disadvantaged background with one of the following high-quality dental services: tooth extraction, filling, or cleaning .The purpose for the event, which started in 2011, is to provide much needed health care and relief to people in the community.
Long-time San Gabriel Valley resident and program sponsor, Dr. Emily Letran, who started The Emily Letran Foundation in 2015, believes in giving back to the community and not only helping give local residents access to free dental care, but also helping them regain their confidence and ability to smile. "We know it can be tough on families today to get basic dental care," says Dr. Letran. "Some may have lost their insurance, and others simply can't afford to pay out of their own pockets. That's why we wanted to continue offering this program, which would be on a monthly basis instead of two times a year, at our office locations. On Tuesday the smiles are on us!"
Please note that the complimentary day of dentistry, sponsored by The Emily Letran Foundation, is on a first come, first serve basis.
For more information visit http://www.SmileChampions.org.
About Emily Letran:
Dr. Emily Letran is a general dentist with 2 group practices in Monrovia and El monte, CA. She is also an author, speaker, philanthropist, and Certified High Performance Coach.
For Dr. Letran, it is an honor and privilege to be part of her patients' lives. As she watches kids growing up, grandparents getting old, the passing of spouses, the courage of the people left behind, individuals going through tough times like job loss or marital separation, she is reminded that the most important thing in life are the relationships we build with other human beings. She is proud to be a small part of these relationships - the ones she shares with patients.
Dental Offices of Dr. Emily Letran
Dr. Emily Letran
Letran (at) EmilyLetranDDS (dot) com
Foothill Dental Center (primary)
837 W Foothill Blvd
Monrovia CA 91016
626-305-5722
http://www.cosmeticdentistmonrovia.com
Mountain View Dental Group
4639 North Peck Road
El Monte CA 91732
626-444-9281
http://www.myelmontedentist.com