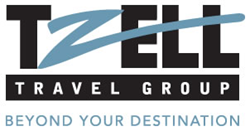 Our agents are renowned for living and breathing customer service, and their jobs are made easier thanks to fantastic supplier partners like Delta Air Lines, who truly value our mutually beneficial partnership.
New York, New York (PRWEB) March 23, 2016
New York-based Tzell Travel Group, founded in 1966, is announcing exciting preliminary details for honoring its monumental success with an extraordinary two-day 50th anniversary celebration, culminating in an October 27 black-tie gala on historic Ellis Island. The unprecedented gala will be co-hosted by award-winning actors Alan Cumming and Sarah Jessica Parker, with an additional celebrity line-up to be announced. Longtime Tzell partner Delta Air Lines has been named as the sole Diamond Level sponsor for all of the events.
"It's only appropriate that we commemorate Tzell's amazing fifty years with a celebration that reflects not only our long, rich history, but also our future," said Tzell Travel Group CEO Barry Liben. "I've only been with Tzell since 1977, and the growth I've seen has been astronomical. In an industry in which some travel agents couldn't withstand the many challenges we faced, Tzell's incredibly tenacious agents turned every challenge into exciting opportunities, making our agency one of the biggest and best."
The anniversary events will commence with Tzell's Branch Meeting on October 26. The all-day meeting for branch presidents from Tzell's 50+ locations will feature an exclusive industry executive panel discussion. The Branch Meeting will be followed by a unique trade show with cocktails that is open to all Tzell agents; the trade show provides unparalleled opportunities for Tzell's supplier partners to network with hundreds of its top agents throughout the country.
"Tzell has always prided itself in providing our valued clients with in-depth knowledge, superb expertise and individualized service through some of the most talented travel agents in the business," continued Liben. "Our agents are renowned for living and breathing customer service, and their jobs are made easier thanks to fantastic supplier partners like Delta Air Lines, who truly value our mutually beneficial partnership. We're proud to welcome them as a foundational partner for Tzell's 50th Anniversary events."
"Delta Air Lines is privileged to be a longstanding partner of Tzell Travel Group, which, like Delta, has an industry-wide reputation for taking great care of its people and providing exceptional customer service. We congratulate Tzell on their 50th anniversary and thank them for their productive relationship with Delta," said Steve Sear, President – International and Executive Vice President – Global Sales for Delta.
Tzell's 50th Anniversary Gala will commence with guests boarding specially-chartered ferries, taking them on a scenic 30-minute ride from lower Manhattan through Upper New York Bay to Ellis Island. In addition to enjoying the Gala festivities, which will feature many of Tzell's celebrity clients from the worlds of entertainment, sports and politics, guests will have the opportunity to tour the island courtesy of the National Parks Service. Tzell's Gala celebration will conclude with a special fireworks display over the Statue of Liberty.
Since 1966, Tzell Travel Group has been providing its clients with the highest quality, most personalized travel experience integrated with today's technology – whether it be corporate, entertainment or leisure travel. Tzell offers comprehensive travel management programs that blend the vast resources it is able to deliver as a travel powerhouse with the personalized dedication and emphasis on quality.
Agents interested in joining Tzell and providing the highest quality, most personalized and proactive customer service available should visit Tzell.com.
###
About Tzell Travel Group:
With annual sales of $2 billion, Tzell Travel Group – as part of Travel Leaders Group – is currently ranked first among the nation's largest corporate travel management companies, according to Business Travel News. Tzell maintains its headquarters in New York City and has offices in 20 states.
In everything it does, Tzell Travel Group places the highest priority on both its clients and its agents. For the individual traveler, Tzell addresses value, convenience, comfort and safety, with its customized quality traveler services. For the corporation, Tzell offers a broad product line of cost containment, meeting services and comprehensive travel management programs.
Tzell focuses on the needs of its agents by providing the best work environment possible and the strongest leadership and support team. These elements combined with excellent air/hotel leisure programs create the "safe haven" which is a hallmark of the Tzell brand.