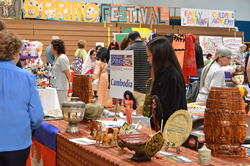 Our accommodations cover all price points, so weekend visitors from near and far can find comfort without breaking their budgets.
KING OF PRUSSIA, Pa. (PRWEB) March 23, 2016
The Valley Forge Tourism & Convention Board (VFTCB) embraces spring 2016 by presenting ways that families with kids can shuck off the winter and dive fully into nature's awakening. Many also provide an economic break, with no admission charge. When coupled with free parking across Montgomery County, these outings represent an unbeatable value.
The details on all events are listed on the VFTCB website. The recommendations include:

Two opportunities to interact with the spring sheep at Peter Wentz Farmstead, Worcester. April 6 is a meet-and-greet that is all about "ewe." On April 9, kids can watch as those same sheep lose their winter coats to a sheep-shearer.
The 25th Lansdale International Spring Festival at North Penn High School (April 16). This afternoon of diverse entertainment includes international foods, music, entertainment and plenty of children's activities for free.
The Young Patriots Run, part of the April 17 Valley Forge Revolutionary 5-Mile Run®, King of Prussia. This annual event, onsite at Valley Forge National Historical Park, raises funds to continually support and improve the visitor experience there.
Those April breezes are perfect for lifting a kite high into the air. Lower Perkiomen Valley Park's April 16 Fun with Kites Day will send springtime spirits soaring.
Embrace Montgomery County's spirit of conservation on April 22, Earth Day. Families can sign up for one of a number of eco-friendly – but very entertaining – projects:
o Cleanup of Lock 60 at Schuylkill Canal Park.
o Ride the "Mudball Express" edition of the Colebrookdale Railroad, where kids toss seeded mud balls from the open-air car, promoting new growth along the historic rail line.
o Work at Green Lane Park, removing Japanese Barberry, an invasive spiny shrub.

Drop a line on April 23 at Lorimer Park, when seasoned fishermen look to pass their tips onto the next generation of anglers. The kids fishing clinic sessions will teach them all they need to know.
April 23 is also National Junior Ranger Day, where kids can explore Valley Forge National Historical Park via activities geared just toward them. The fun and education culminate in an official graduation ceremony, where participants earn a commemorative badge.
May 1 is opening day of Treetop Adventures at Elmwood Park Zoo. The challenging course strung throughout the zoo's animal enclosures combines the speed of ziplining with the agility required by a ropes course.
Pottstgrove Manor's annual Colonial May Fair (May 7) gives tots the chance to dance around an actual maypole. The practice in Pottstown revives an ancient springtime tradition where participants' intricate steps weave colorful ribbons around the central staff.
Should spring weather get bogged down with April showers, the inside activities at Arnold's Family Fun Center provide a terrific alternative. The arcade, bowling alley, go-kart track, miniature golf course and laser tag area are all climate controlled.
"Montgomery County in the spring is ideal for kids," says Mike Bowman, president of the VFTCB. "All that pent-up energy of being inside for the winter can be expended by playing on our playgrounds, picnicking in our parks and taking advantage of our open spaces.
"Knowing how all that fresh air can tucker kids out," Bowman continues, "we also have hotels that are extremely convenient to every family-centric attraction in the county. Our accommodations cover all price points, so weekend visitors from near and far can find comfort without breaking their budgets."
For a full listing of spring events – including times, locations, and recommended sites for an overnight – see the VFTCB Calendar of Events.