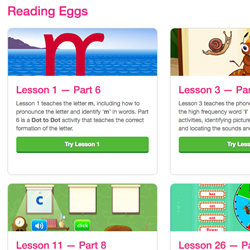 (PRWEB) March 23, 2016
The educational publishers behind Reading Eggs have just released a collection of sample lessons that show parents how children learn to read using the breakthrough reading program.
The online lessons provide a glimpse into a child's learn-to-read journey at various stages of the Reading Eggs program. They begin with learning simple phonics skills and high-frequency sight words, all the way through to reading book extracts and completing highly engaging comprehension and vocabulary activities.
Since its launch in 2008, over 3.4 million users have registered with Reading Eggs to help their children learn to read.
The comprehensive education program is designed for children aged 3 to 13 years, and has been hugely popular among teachers, homeschoolers, and parents around the world. Based on scientific research, Reading Eggs covers the five essential components of reading instruction as outlined by the National Reading Panel: phonics, phonemic awareness, vocabulary, fluency, and comprehension.
Each sample demonstrates one part of a Reading Eggs lesson. This includes interactive activities designed to help children learn essential reading skills while also reinforcing what they have learned in previous lessons. The program boasts hundreds of lessons and thousands of activities which cover a wide range of literacy skills, including grammar, spelling, and writing.
Reading Eggs uses colorful animations, high-level interactivity, and in-game rewards to motivate children to learn to read through a series of self-paced online lessons. A placement test at the start of the program places children on a lesson that accurately matches their ability. Parents can easily track their child's reading progress with detailed assessment reports available from an online parent dashboard.
The new sample activities include: a dot-to-dot which teaches children how to form the letter m; listening activities that build phonemic awareness; a fun picture clue activity that builds vocabulary and reading fluency; and an 'Island Hop' game that helps children recognize sight words in a visually engaging way.
The publishers have also released sample lessons from their award-winning math program, Mathseeds. New sample activities are available to any parent who has registered for a free Reading Eggs account online.
For more information, visit http://www.readingeggs.com. New users can register for a free trial on the Reading Eggs website, and gain access to all of the lessons, downloadable worksheets, and more in the Reading Eggs, Reading Eggspress, and Mathseeds programs.