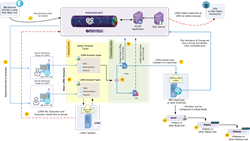 This phase will increase both developer productivity and the quality of their output by allowing them to carry out different types of code analysis coupled with unit testing.
Bangalore, India (PRWEB) March 23, 2016
Kovair Software, one of the leaders in Integrated Application Lifecycle Management (ALM) announced the phase II release of its Omnibus Integration Adapter/Connector for LDRA Testbed, a leading product in providing core static and dynamic analysis engines for both host and embedded software.
LDRA Testbed provides the means to enforce compliance with coding standards such as MISRA, JSF++ AV, CERT C, and CWE and also provides visibility of software flaws that might typically pass through the standard build and test processes to become latent problems. In addition, test effectiveness feedback is provided through structural coverage analysis reporting facilities which support the requirements of the DO-178B/C standard up to and including Level-A. Safety critical and security critical software development brings in a global array of components and technology providers. This makes managing the quality and strictness of maintaining different standards over different years of development contracts extremely challenging, particularly, in light of tight budgets and time-to market requirements.
In the phase I release, Kovair Omnibus connector for LDRA Testbed enabled developers to easily apply LDRA's static, dynamic and system level code analysis capabilities from within their IDEs. The phase I integration also allowed the senior quality managers to see test results from LDRA using the centralised repository of Kovair, and then create reports and dashboards for decision making.
In this phase II release, Kovair Omnibus has extended its integration support for LDRA's TBrun module for executing unit test (Black/White Box mode), integration/module test and isolation unit test. This will allow users to invoke the TBrun interface from the extended interface of the IDE where they can create and execute test cases. The regression report from TBrun in HTML format can be invoked and seen from the extended interface provided by Kovair. This capability enhancement of executing unit tests will help organisations to move one step ahead for implementing a proper CI environment. The enhanced integration with more granular level code analysis will increase the confidence of organisations for all software development projects in safety-critical, security-critical, and business-critical applications.
Kovair Omnibus engineering team is currently working on the next phase of the integration with TBmanager to enable team-wide workflow management. Implementation of requirements based testing using the TBmanager module is also in progress.
"This phase will increase both developer productivity and the quality of their output by allowing them to carry out different types of code analysis coupled with unit testing. Developers will also be able to see real-time reports of different analysis performed by LDRA from their own IDEs," says Ian Hennell, Operations Director.
"With this phase II completion of the Omnibus-LDRA integration, organisations will be able to enforce a uniform set of code analysis techniques at a much more granular level and ensure that unit , isolation unit, and regression testing performed by the developers from their IDEs through a single interface. This in turn will provide a significant level of quality standardisation," said Bipin Shah, CEO and Chairman of Kovair.
Kovair-LDRA Integration – Major Value Propositions
1. Impose code quality standards in development phase
The LDRA integration enables developers to perform both static and dynamic code analysis from their IDEs. This allows organisations to enforce code analysis by developers during code check-in in an SCM tool such as ClearCase.
2. Include testing during development phase
The integration interface provided by Kovair Omnibus will allow users to perform integration unit, isolation unit and unit testing using TBrun from their IDEs during the code check-in process. The integration directly opens the TBrun interface where users can create test cases automatically and execute Black box / White box tests Users may then view test results for functionality and structural coverage directly from the results menu of the LDRA screen.
3. Execute code coverage and build
Now developers can perform complete code coverage as well as execute a build for selected code files after checking them into the source control management system.
4. View LDRA results directly from the IDE
The integration interface provided by Kovair will enable users to view the code analysis reports generated by the LDRA tool suite from within their own IDEs. Users can view the entire sequence of test cases from the TBrun regression report.
5. Set up a Continuous Integration (CI) scenario
Kovair Omnibus already has connectors for more than 60 tools which includes build tools such as Hudson or Jenkins. The addition of the LDRA connector will allow organisations to automate the entire development phases such as coding, code analysis, and build, and thus set up a CI environment.
6. Trace back to source requirements and defects
Developers can link LDRA compliant code to the original requirements or defects for which the code was written. This helps project managers to understand and trace exactly which code has successfully passed the LDRA test for which requirements taken from DOORS, or for which defects raised in JIRA, and how much code is yet to go through the LDRA compliance test in order to complete the build process successfully.
7. Manage everything at one place
Developers do not need to log into multiple tools to monitor the progress status of their development objects or LDRA results such as the code review report, quality review report, structural coverage report and the TBrun regression report. Everything can be viewed directly and automatically from within the developers' IDEs based on a rule (File based configuration or metadata).
To learn more about the recent enhancement of the LDRA TBrun integration by Kovair, please visit this page: http://www.kovair.com/adapters/ldra-integration/.
About Kovair Software:
Kovair Software is a Silicon Valley software product company specializing in the domain of Integrated Application Lifecycle Management (ALM) solutions and supports global software development and management. Kovair's focus on integrating third party best-of-breed ALM tools enables development of applications in a synchronized tools environment. Kovair's flagship products Omnibus Integration Platform, ALM Studio and Integrated Test Management and QuickSync are highly preferred solutions by some of the major corporations globally. To know more about Kovair-LDRA Integration, please contact sales(at)kovair(dot)com.
About LDRA:
For more than forty years, LDRA has developed and driven the market for software that automates code analysis and software testing for safety, mission, security, and business-critical markets. Working with clients to achieve early error identification and full compliance with industry standards, LDRA traces requirements through static and dynamic analysis to unit testing and verification for a wide variety of hardware and software platforms. Boasting a worldwide presence, LDRA is headquartered in the United Kingdom with subsidiaries in the United States and India, coupled with an extensive distributor network. For more information on the LDRA tool suite, please visit http://www.ldra.com.