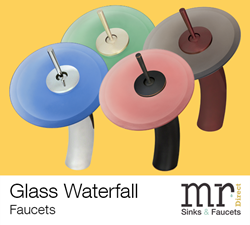 The glass plate on the faucet has a translucent frosted appearance when it is matching the five similarly frosted sinks
Toledo, Ohio (PRWEB) March 24, 2016
Ever since MR Direct introduced its waterfall faucets, they have been the go-to choice for consumers who purchased vessel-style sinks. The combination of the two makes for a stunning display in any bath. Whether it is a stone, glass or bamboo vessel sink, MR Direct has a waterfall faucet design to match. In fact, MR Direct highly recommends that a waterfall-style faucet be purchased to match any vessel sink selected.
In particular, these waterfall faucets have been extremely popular with the glass varieties of vessel sinks. Because of this trend, MR Direct decided to offer waterfall faucets to match its newest glass undermount-style sinks as well. The glass undermount sinks are available in seven beautiful colors, either as an oval UGM, or a rectangular UG1913 model. Now there is a waterfall faucet to match each of these sinks.
The MR Direct waterfall faucet is a tall metal fixture which gracefully bends over the basin. A slender, joystick-style toggle sits at the top to regulate water flow and temperature. Around the neck of the shaft is a 7-inch diameter disc made of the same material as the bowl. When turned on, water cascades from the tall spout, over the plate, and into the bowl. The metal components of the faucet are available in one of the four attractive MR Direct finishes: chrome, brushed nickel, oiled-rubbed bronze, or antique bronze.
The glass plate on the faucet has a translucent frosted appearance when it is matching the five similarly frosted sinks of aqua, coral, emerald, frost, and taupe. It has an opaque, high-gloss finish when corresponding to the two opaque sinks of black and turquoise. Just like the sinks, the glass plate on the faucet is fully tempered which not only strengthens it, but causes it to break into tiny granules instead of dangerous shards in the unlikely event of it breaking.