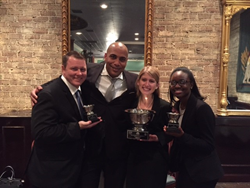 GULFPORT, Fla. (PRWEB) March 23, 2016
Stetson University College of Law's trial team members were named champions and won three awards at national competitions this past weekend in California and Illinois.
Stetson's trial team of Silvia Amador, Nathan Bruemmer, Kishantevia Carson and Dan Kavanaugh won the National Ethics Trial Competition at the University of the Pacific McGeorge School of Law in Sacramento, California, March 17-19. The team also won the Most Professional Team Award and Kavanaugh won the Best Advocate, Final Round Award. Coaches Judge David Demers and adjunct professor Susan Demers coached the Stetson team with Brandon Blake JD '13.
Another Stetson trial team of Alexa Cline, Courtney Olivier, Chantay Perry and Alexis Petrosino advanced to the semifinals and won three individual awards at the American Bar Association National Criminal Justice Trial Competition on March 17-19 in Chicago, Illinois. Petrosino won the Best Opening Statement Award and the Best Direct Examination Award and Olivier won the Best Closing Argument Award at the ABA competition. The competition is co-sponsored by the Criminal Justice Section of the American Bar Association and The John Marshall Law School. Laura Rose JD '12 and Adam Nate JD '09 co-coached the team.
Stetson's trial advocacy program is nationally ranked No.1 in the nation by U.S. News & World Report. Since 1980, Stetson's advocacy teams have won five international competitions, 65 national championships, and more than 100 awards for best brief, best advocate and most professional.
###
About Stetson University College of Law
Stetson University College of Law, Florida's first law school, has prepared lawyers and leaders since 1900. Today, Stetson leads the nation in blending legal doctrine with practical training, evidenced by its top-ranked programs in advocacy and legal writing. Through our academically rigorous curriculum and commitment to social responsibility, Stetson lawyers are ethical advocates ready to succeed in the legal profession.