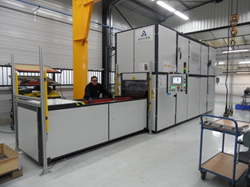 We expect the high-pressure forming process will allow us to both reduce the fabrication steps required and to minimize the need for costly hand corrections. --Antoine Crouÿ, Gardner
Västerås, Sweden (PRWEB) March 23, 2016
A modern high-pressure fluid cell press from Quintus Technologies will support the Airbus widebody aircraft program at Gardner Aerospace, one of Europe's largest independent manufacturers of metallic aerospace detailed parts.
The new 800 bar (11,600 psi) Flexform press will have a central position at the Gardner facility in Mazères, in southern France, in order to meet Airbus' capacity ramp-up, chiefly driven by the new A350. Gardner's Mazères plant is conveniently located close to the Airbus assembly center in Toulouse.
"Our facility in Mazères is Gardner's center of excellence for hard metal sheet fabrications and complex assemblies, concentrating in particular on titanium alloys in the forming area," states Antoine Crouÿ, Gardner's Head of Commodities. "Today's challenges in the A350 ramp-up and the need of being more competitive in regard to new aerospace business place completely new fabrication demands on the supply chain. With this investment, we are gearing up to meet those challenges and demands. We expect the high-pressure forming process will allow us to both reduce the fabrication steps required and to minimize the need for costly hand corrections."
The Quintus high-pressure press, with a forming area of 700 mm x 1800 mm (27.6 x 73 inches), will introduce a number of production efficiencies. The hydroform process requires only one rigid tool half, generating significant tool cost savings and eliminating several forming operations, intermediate heat treatments, and operator dependencies.
"The added value of the high-pressure process allows tier sheet metal part suppliers to meet the quality, volume, and cost demands of major aerospace OEMs like Airbus," observes Jan Söderström, CEO of Quintus Technologies. "We see the same trend all over the western world, where primarily Airbus, Boeing, Embraer and Bombardier are moving the supply chain to a more flexible level of forming die design, combined with modern high-pressure forming technologies."
Mr. Crouÿ adds, "We chose Quintus as our partner not only because they supply the most advanced high-pressure equipment available, but also for their ability to offer a long-term technology transfer program and willingness to enter into a close business relationship."
About Quintus Technologies
Quintus Technologies specializes in the design, manufacture, installation, and support of high pressure systems for sheet metal forming and densification of advanced materials and critical industrial components. Headquartered in Västerås, Sweden, and represented in 35 countries worldwide, the company is the world leader in high pressure technology and has delivered more than 1,800 systems to customers across the globe within industries such as aerospace, automotive, energy, and medical implants. Read more about Quintus Technologies at http://www.quintustechnologies.com.
About the Gardner Group
Gardner Aerospace is one of Europe's largest independent manufacturers of metallic aerospace detailed parts. Gardner machines, fabricates, and treats small to large and simple to complex detailed parts in soft, hard, and exotic metals. The company also provide kits, sub-assemblies, major assemblies, and repair services. It has a complete range of engineering tools, management processes, and quality approvals to support these capabilities. Employing more than 1,400 people worldwide, Gardner has five modern aerospace approved manufacturing operations in the U.K., four in France, two in Poland, and one in India. Annual revenues exceed $185 million. Read more about the Gardner Group at http://www.gardner-aerospace.com.