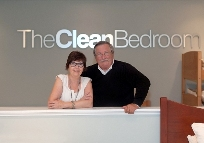 "Everyone in the world should know what they're sleeping on at night." ~Ted Duqette
Kittery, ME (PRWEB) March 24, 2016
In response to an ever-changing marketplace, The Clean Bedroom recently unveiled its plans for 2016, including a newly revamped web site. The new and improved site (http://www.thecleanbedroom.com), which went live this week, incorporates a responsive design to attract mobile shoppers; offers a financing program to break purchases up into smaller, easier-to-afford installments; and boasts a fresh, clean look. Additionally, the shopping cart is now managed by Magento, an e-commerce platform that has powered more Internet Retailer Top 1000 merchants than anyone else and which offers lots of bells and whistles for the shopper, including the ability to review products.
The Clean Bedroom was founded over a decade ago, after co-owner, Chris Chamberlin, and her husband and business partner, Ted Duquette, discovered the toxic nightmares that lurk in conventional mattresses. "'We said, 'Everyone in the world should know what they're sleeping on at night,'" says Chamberlin. "That was 2004, and The Clean Bedroom was born."
Also on tap for 2016 – shorter lead times on top-selling mattresses; a new line of Naturally Organic innerspring mattress models; and scouting locations for the next showroom.
First an online-only company, launched from the spare bedroom of the couple's home in Eliot, ME, The Clean Bedroom has grown to become the country's premier resource for organic mattresses, bedding, and accessories, with sleep showrooms across the northeast.
# # #
Chris Chamberlin is co-founder and co-owner of The Clean Bedroom. Chamberlin has had numerous articles published on http://www.organic.org and other media outlets focused on organic bedroom furnishings and green living. She is an expert in healthy sleep, and is available to interview regarding The Clean Bedroom's new site and organic living trends.
The Clean Bedroom has locations in Kittery and Portland, ME; Wellesley, MA; Greenwich, CT; and Manhattan, NY, where customers can test-drive (or test-nap!) a clean, non-toxic, natural mattress. The company researches each mattress brand they recommend—in most cases, owners Chris Chamberlin and Ted Duquette have visited the factories to ensure the product meets or exceeds their high standards. Online, on the phone, and in each showroom, the company's trained mattress specialists help match customers with their ideal natural mattress.
For more information or to set up an interview, visit thecleanbedroom.com or contact Chris Chamberlin at 207-438-9778 or at chris(at)thecleanbedroom(dot)com.