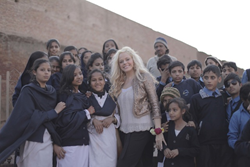 Washington, DC (PRWEB) March 23, 2016
Ambassador Jilani to host the Pakistan Day festivities with Recording Artist Heather Schmid performing the popular Unity Song. The evening will honor the Pakistani/American collaboration as an example of successful music diplomacy.
The Unity Project is a Pakistani national song performed and produced by American Grammy Member Recording Artist Heather Schmid with lyrics by Pakistani legend Anwaar Maqsood and melody by Ashaad Mehmood. The music video and reality show highlight Heather Schmid's musical collaborations in the 5 provinces of Pakistan.
Phelay Hum Pakistani Hain fused American pop rhythms with Pakistani regional instruments, and local musician melodies. Celebrating Pakistani musicians, instruments and traditions by bringing them to a wider audience through the medium of pop music, the Unity Song reached every corner of Pakistan through radio, TV, Internet, local and national events. Ms. Schmid's performances and interviews on TV in Pakistan are appreciated as symbols of Music Diplomacy between the nations.
The Unity Project/Pehlay Hum Pakistan Hain is a western produced pop song performed and co-produced by classically trained American GRAMMY recording artist Heather Schmid.
Iconic Pakistani legends Anwar Maqsood and Ashaad Mehmood collaborated to write the lyrics and the melody. Berklee School of Music Professor and Boston Symphony Orchestra player Jon Finn added guitar to the production.
During the summer of 2013, a highly tumultuous time with many security concerns in Pakistan, Heather and Rafay Mehdi traveled to rural villages in Pakistan. Heather Schmid recorded the musicians playing and performing in their village with their instrument, then added the part to the final song back in Los Angles while mixing and mastering.
The Unity Song was released with a Music Video on August 13, 2013 by every major media outlet. The Pakistan National Holiday was celebrated by live performances with Heather Schmid and Pakistani musicians live and on TV throughout the country.
Pakistan 2013-2015 Heather Schmid traveled to Pakistan to perform live the Unity Song/Pehlay Hum Pakistani Hain. The media coverage is currently over 190 million views.
The overall sentiment of Pakistani citizens in the country and worldwide was of gratitude for celebrating the music and musicians in Pakistan. Sharing the positive collaborating between Pakistani legend musicians and American GRAMMY recording artist Heather Schmid allow the listeners to embrace and emulate this musical diplomacy. The reaction from the people of Pakistan have been almost universally grateful and positive, earning her the informal title of Music's Global Ambassador.