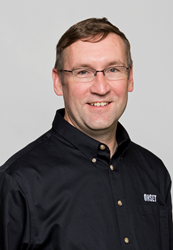 Bourne, MA (PRWEB) March 24, 2016
Onset, a world leader in data loggers and monitoring solutions, today announced that Jim Towey has been named as the company's new president.
With a strong background in product development, engineering R&D, design, manufacturing, and support, Jim came to Onset in 2013 as director of engineering, was later promoted to vice president of engineering, and assumed additional business responsibilities in the core markets. He now brings more than 29 years of extensive technology and business leadership experience to the role of president.
"I'm excited to help Onset expand its mission to provide cutting-edge data logging and monitoring solutions that improve the environment and preserve the quality of temperature-sensitive products," Jim said. "My goal is to build on Onset's long-time reputation for legendary product reliability and exceptional customer service to open new avenues of growth for the company."
Jim previously held significant leadership positions at United Technologies, Excel Switching (acquired by Lucent Technologies), Cetacean Networks, Starent Networks (acquired by Cisco), and Empirix Network Monitoring. He holds a Master of Business Administration from the University of Connecticut, a Master of Science in Electrical Engineering from Rensselaer Polytechnic Institute, and a Bachelor of Science in Electrical Engineering from the University of Connecticut.
ABOUT ONSET
Onset is a leading supplier of data loggers and monitoring solutions. Based on Cape Cod, Massachusetts, the company has been designing and manufacturing its products on site since its founding in 1981. Visit Onset on the web at http://www.onsetcomp.com.
###
READER CONTACT
Onset
1-800-564-4377 / 508-759-9500
http://www.onsetcomp.com
sales(at)onsetcomp.com