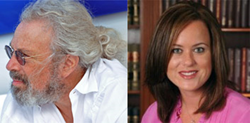 Karton is the quintessential teacher of advocacy and Stetson is excited to honor him this year.
GULFPORT, Fla. (PRWEB) March 23, 2016
Stetson University College of Law has selected Joshua Karton for this year's Lifetime Achievement Award for Excellence in Teaching Advocacy and American University Washington College of Law Professor Elizabeth L. Lippy for the Edward D. Ohlbaum Award. Both awards will be presented during the Educating Advocates Teaching Advocacy Skills Conference at Stetson law school in Gulfport, Florida, in May.
The Lifetime Achievement Award recognizes people who have fundamentally changed the way in which the world approaches the teaching of advocacy.
Joshua Karton, president of Communication Arts for the Professional, specializes in teaching how to apply the communication skills of theatre/film/television to the art of trial advocacy. Trained as an actor, Karton's writing and acting credits range from Forever Fernwood to Beverly Hills 90210 and he has taught at San Francisco's American Conservatory Theatre and at the University of Southern California's School of Theatre. He has served on the faculties and developed curriculum for the American Association of Justice's Ultimate Course, the Gerry Spence Trial Lawyer's College, the National Institute for Trial Advocacy, the JAG Corps, American Bar Association, National Association of Criminal Defense Lawyers, numerous law schools and criminal defense associations. A 35-year veteran in the field of communication arts, Karton prepared the winning oral argument to the U.S. Supreme Court in Hamdan v. Rumsfeld.
"Karton has pioneered teaching communication arts to lawyers, and his work with plaintiff lawyers, criminal defense attorneys and military attorneys is a testament to his dedication and abilities," said Stetson University Professor of Excellence in Trial Advocacy Charles Rose. "Karton is the quintessential teacher of advocacy and Stetson is excited to honor him this year."
The Edward D. Ohlbaum Award honors an individual whose life and practice display sterling character and unquestioned integrity, coupled with ongoing dedication to the highest standards of the legal profession and the rule of law.
Professor Elizabeth Lippy began as the assistant director of the trial advocacy program at the American University Washington College of Law in 2010. She also maintains a private practice as a founding member of the law firm of Fairlie & Lippy, P.C. where she focuses her practice on criminal defense and civil litigation. Professor Lippy attended Temple University James E. Beasley School of Law where she had the honor of working under the tutelage of Eddie Ohlbaum as a competitor on his national trial teams. She coached for Temple's nationally renowned mock trial teams since graduating from there in 2003 and was also a guest lecturer for the LL.M. in Advocacy at Temple. Professor Lippy currently teaches many different courses at the American University Washington College of Law, working tirelessly with all of the mock trial teams. Lippy is also an instructor for the National Institute of Trial Advocacy (NITA) and has published a case file through NITA entitled Evans v. Washington State.
"Professor Lippy's acceptance of this award pays forward the promise to the legal profession that Professor Ohlbaum identified and nourished in her years ago as a young advocate," said Professor Rose.
Previous recipients of the Lifetime Achievement Award include Terry MacCarthy, Thomas Mauet, Warren Wolfson, Barbara Bergman, James Seckinger, Edward Ohlbaum, Susan Poehls, Bill Eleazer, and Judge David Erickson. Last year's inaugural recipient of the Edward D. Ohlbaum Professionalism Award was professor Adam Shlahet.
The annual Educating Advocates conference May 23-26 this year on Stetson University's Gulfport, Florida, campus. Professors, lawyers and legal practitioners from across the country are invited to spend two and one-half intensive days learning the Stetson method of advocacy, developing their teaching skills, and networking with renowned advocacy instructors. The theme of this year's conference is "Teaching Skills: Building the 21st Century Law School-One Student, One Skill, One Moment at a Time," and includes a special Teacher Advocacy Training Session on May 26.
To learn more about Educating Advocates and to register, visit http://www.stetson.edu/law/conferences/eats/.
April 15 is the deadline for early bird registration.
###
About Stetson University College of Law
Stetson University College of Law, Florida's first law school, has prepared lawyers and leaders since 1900. Today, Stetson leads the nation in blending legal doctrine with practical training, evidenced by its top-ranked programs in advocacy and legal writing. Through our academically rigorous curriculum and commitment to social responsibility, Stetson lawyers are ethical advocates ready to succeed in the legal profession.