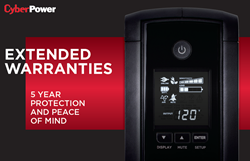 "With the introduction of our new two year extended warranty, our customers can count on our commitment to their product satisfaction—now and in the future." Scott Koller, Vice President of Channel Sales
MINNEAPOLIS, MN (PRWEB) March 29, 2016
CyberPower Systems (USA), Inc., a global leader in power protection and power distribution equipment for small- and medium-sized businesses, enterprises and home office customers, now offers customers the option to add two years of additional coverage to the standard terms and conditions of the three warranties present on CyberPower products. This extension enhances the company's industry leading warranties for all UPS systems, UPS accessories, and PDUs (Monitored, Switched, Metered ATS and Switched ATS).
"With the introduction of our new two year extended warranty, our customers can count on our commitment to their product satisfaction—now and in the future," said Scott Koller, Vice President of Channel Sales, CyberPower Systems. "We have a tremendous amount of confidence in our product line. With the ability to extend our industry leading three year warranty for a total of five years, our customers can share in the confidence that our products will protect their business operations, mission critical data, and IT equipment infrastructure."
Once purchased, the additional two years of warranty coverage will be added once the product is registered with CyberPower, making the total warranty period five years from date of purchase. Registration process will be completed via an online form. The two year extended warranty provides the most economical and convenient way to ensure and maintain equipment performance while minimizing disruption to operations.
For customers in government and education, this additional coverage is added at no charge when purchasing qualifying UPS systems until June 30, 2016. To learn more about CyberPower products, visit cyberpowersystems.com.
About CyberPower Systems
CyberPower designs and manufactures uninterruptible power supply systems, power distribution units, surge protectors, remote management hardware, power management software, mobile chargers and connectivity products. The company serves customers in enterprise, corporate, government, education, and small office/home office environments. Engineered to meet demanding requirements and exceed international safety and environmental standards, CyberPower products are available through authorized distributors and sold by value-added resellers, system integrators, managed service providers, select retailers, and online resellers. The company has offices and distribution centers in The Americas, EMEA, and Asia Pacific regions. For product inquiries, call 1-877-901-1930 or email sales(at)cpsww(dot)com. To learn more, visit http://www.cyberpowersystems.com, or follow us on LinkedIn, Twitter and Facebook.
© 2016 Cyber Power Systems (USA), Inc. CyberPower® is a registered trademark and brand of Cyber Power Systems (USA), Inc. All rights reserved. All other trademarks are property of their respective owners.