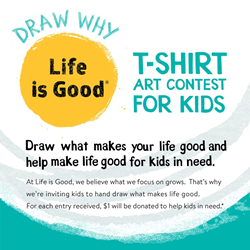 Boston, MA (PRWEB) March 24, 2016
Positive lifestyle brand Life is Good® announced today the launch of its first t-shirt art contest for kids, encouraging them to focus on the good and spread the power of optimism. Every time kids draw and share "why life is good" they'll help make life better for kids in need.
"The world today can be an intense, complex and challenging place – but as humans we have a choice to focus on what's right in our lives rather than what's wrong," said John Jacobs Chief Creative Optimist & Life is Good co-founder. "The amazing thing about young kids is this comes naturally to them. Our goal with this contest is to celebrate and inspire that raw sense of optimism, to remind people of the simple things that make life good, while also raising money to help kids overcome poverty, violence and illness."
Beloved for over 20 years for its fun, positive message apparel, Life is Good is dedicated to inspiring people to choose optimism to positively impact their life and the lives of others.
Now through April 29th, 2016, kids from the ages of 3 through 12 are encouraged to hand draw what makes life good for them, then have their parent (or legal guardian) scan or snap a photo, share on Instagram using #LifeisGoodbecause or submit through http://www.lifeisgood.com/artcontest. For every entry received, Life is Good will donate $1 to help kids in need. Three grand prize winners will have their drawing featured on Life is Good t-shirts (with net profits donated to support kids in need) and be awarded a $2,000 scholarship as part of the prize package.
All original art submitted will be reviewed by the official Life is Good team, including Bert Jacobs (Chief Executive Optimist & Life is Good co-founder) and John Jacobs (Chief Creative Optimist & Life is Good co-founder). Entrants' art will be shared in an ever-growing gallery of inspiration at http://www.lifeisgood.com/artcontest.
The campaign comes on the heels of the release of Life is Good's new 2016 Kids Collection. Featuring 24 unique styles in sizes ranging from toddler to Kids XL, the line includes original art and messages of empowerment and positivity to help build confidence in kids and spread optimism to all. The tees are made with 100% USA grown cotton, are garment washed for softness and feature double needle stitching.
For more contest details and information visit: http://www.lifeisgood.com/artcontest.
ABOUT THE LIFE IS GOOD COMPANY
The Life is Good Company is a $100 million lifestyle brand dedicated to spreading the power of optimism. The company donates 10 percent of its net profits to help kids in need. To date, the company has donated over $11 million, principally through Life is Good products, events and community fundraising efforts. Life is Good® is a registered trademark of The Life is Good Company. Please visit LifeisGood.com for more details and follow Life is Good on Twitter, Facebook and Instagram.
ABOUT LIFE IS GOOD KIDS FOUNDATION
The Life is Good Kids Foundation is an accredited 501(c)(3) that partners with organizations serving the most vulnerable children to improve the quality of their care. The Foundation's Playmaker program connects with schools, hospitals, camps, and a variety of social service agencies to give childcare professionals the resources they need to make a positive, life-changing impact at a pivotal time in a child's development. For more information please visit LifeisGood.com.