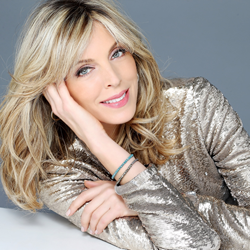 She's a Lyme survivor who's not only an advocate for her own health, but for others as well.
Greenwich, Connecticut (PRWEB) March 24, 2016
Actress Marla Maples, best-known for her six-year marriage to Republican presidential candidate Donald Trump, will be honored at Global Lyme Alliance's "Time for Lyme" Gala, April 2 at the Hyatt Regency Greenwich in Old Greenwich, Connecticut.
Maples, who recently joined the Season 22 cast of "Dancing With the Stars," said that she started to experience Lyme symptoms at age 22, two years after meeting Trump. "I had aching joints and muscles, couldn't think clearly and doctors thought I might have Epstein-Barr," she recalls. Despite her years as a Georgia-bred tomboy jock and Broadway dancer, Maples found that her energy level had changed dramatically. "I was achey and hurting and had very low energy," she says.
Eventually diagnosed with Lyme disease, Maples was treated with antibiotics for six to eight months, in part because she had also picked up a parasite while visiting Guatemala and the Peace Corps. But she says she hasn't taken antibiotics since. "I want to care for myself inside out versus outside in," says Maples. At the core of her stay-well discipline: yoga, which she practices regularly, "clean eating" —kosher food, no gluten, no dairy— and 20 minutes of meditation every morning. She also believes in the importance of ozone therapy, an integrative treatment which can mitigate the negative effects chronic illnesses have on the body.
Maples acknowledged that she has previously not spoken out publicly about Lyme, but called herself a "quiet warrior" for those suffering from the disease. "I have many friends with chronic Lyme and it's a tragic disease," she says. "I want to help them, to guide them, let them know the importance of the mind-body-spirit connection. They are part of a community of people with shared experiences who need to know about the latest research advances."
"We are thrilled to honor Marla at our Gala," said Robert Kobre, GLA's Chairman. "She's a Lyme survivor who's not only an advocate for her own health, but for others as well. We look forward to an inspirational evening. This evening will provide an opportunity to support GLA's efforts to advance Lyme and tick-borne disease research and education programs."
The "Time for Lyme" Gala is a major fundraising event for Global Lyme Alliance, a leading Lyme and tick-borne disease nonprofit. The Gala will be held Saturday, April 2, 2016, from 6:30 p.m. to midnight at the Hyatt Regency Greenwich in Old Greenwich, CT. It features a cocktail reception, dinner, dancing, and both silent and live auctions. For more information, or to purchase tables or tickets, please visit GlobalLymeAlliance.org or call 203-969-1333.
About Global Lyme Alliance
Global Lyme Alliance funds cutting-edge research at leading U.S. universities for the purpose of developing reliable diagnostic tools, effective treatments and ultimately curing Lyme disease, while building greater public awareness for disease detection and prevention. A 503(c)(3), GLA is headquartered in Greenwich, CT. For more information, please visit http://www.GlobalLymeAlliance.org or call 203-969-1333