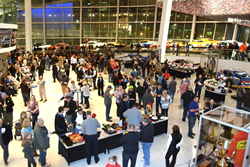 This year was our largest conference program ever, with a number of sell-out rooms.
Fort Atkinson, WI (PRWEB) March 25, 2016
National Pavement Expo, a four-day conference and trade show serving the paving and pavement maintenance industry, exceeded expectations during this year's event, held at the Charlotte Convention Center in Charlotte, NC. With the largest show floor in its 31-year history, Amy Schwandt, show manager and publisher of the expo's sponsoring trade magazines, Pavement Maintenance & Reconstruction® and Asphalt Contractor™, calls this year's expo, "Nothing short of phenomenal."
A number of new avenues introduced in 2016 contributed to the success, including the addition of a full-day Leadership Boot Camp prior to the expo's opening and the first-ever networking night hosted by NPE at the NASCAR Hall of Fame.
CONFERENCE PROGRAM EXPANDS; TAKES NPE TO THE NEXT LEVEL
In response to the growing enthusiasm for education over the last two years, the expo introduced a full-day Leadership Boot Camp led by Brad Humphrey of Pinnacle Development Group on the Tuesday prior to the show's opening. Humphrey, also known as "The Contractor's Best Friend," immediately captivated his sold-out crowd of over 100 attendees, helping them develop personal leadership vision, business confidence and skills to handle the most challenging people.
"Brad's Boot Camp was a great way to kick-off the rest of the conference program," says Allan Heydorn, conference manager and editor of Pavement Maintenance & Reconstruction magazine. "We plan to continue offering similar programs in the future."
During the show, nearly half of NPE's attendees, including exhibitors, took advantage of the conference sessions. "This year was our largest conference program ever, with a number of sell-out rooms," adds Heydorn. "The largest room had over 300 people."
NASCAR HALL OF FAME NIGHT
Also new for 2016 was the expo's first-ever networking night, which was held at the NASCAR Hall of Fame. Admission was free for all NPE attendees and exhibitors with their show badge. The event drew in close to 2,000 people.
"We didn't know what to anticipate for our first time hosting an event like this," said Schwandt, "but the turnout surpassed all of our expectations and we received nothing but positive feedback."
Attendee comments in the post-show survey reflected the expo's success:
"The Hall of Fame event was fantastic! The conference sessions were very informative," commented Francisco Passaro, J.A. Alexander, Inc. in Bloomfield, NJ.
"NPE was a great experience for me and my crew! It was a unique opportunity to learn from industry veterans, collaborate with other professionals, and see a wide variety of products on the showroom floor," wrote Joel Greear, Central Paving LLC in Ellensburg, WA.
"The experience gained at these NPE conferences is second to none. This past year in particular had some of the greatest speakers with a great wealth of knowledge," stated John Stout, S&G Asphalt Service in Slatington, PA.
2017 EXPO TO BE HELD IN NASHVILLE
Exhibitors have already committed to over 70% of the expo space for NPE 2017, which is scheduled for February 1-4 in Nashville, Tennessee. "We're excited to return to our roots in Nashville," Schwandt said. "Our exhibitors and attendees agree; it's one of the best locations for the show."
ABOUT AC BUSINESS MEDIA
AC Business Media is a business-to-business media company with a portfolio of renowned brands in heavy construction, asphalt, concrete, paving, rental, sustainability, manufacturing, logistics and supply chain markets. AC Business Media delivers relevant, cutting-edge content to its audiences through its industry-leading digital properties, trade shows, videos, magazines, webinars and newsletters and provides advertisers the analytics, data and ability to reach their target audience.