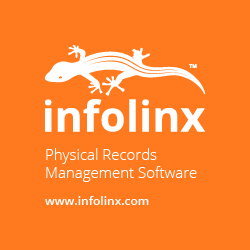 Kensington, MD (PRWEB) April 05, 2016
Today, Infolinx System Solutions™, a leading provider of enterprise physical records management software, announced the continued improvement and enhancement of Infolinx WEB at TSLAC. With a published policy of providing ready access to the state's archival resources, public records and library materials, some of which date back to the 18th century, the procurement of the technology-laden, feature-rich Infolinx solution was the logical choice for this client.
Michael Shea, TSLAC Records Center Manager, commented "Some vendors offered nothing but flexibility, others told us we would need to bend every process to their system, Infolinx hit the mark by starting with a robust system out of the box and the team with the creativity and knowledge of the records world to customize their product to meet the unique needs of a government agency of our size and scope." The latest enhancements improve workflow efficiencies resulting in better customer service for TSLAC's customers.
In addition to the full life-cycle management and tracking of files, boxes, microfilm, microfiche, and disaster recovery materials, the industry-leading solution also includes space management, a configurable storage and activity based billing module, RM class registration module, online collaborative management of tens of thousands or records retention series, and advanced legal holds support. Built using the latest .NET framework, the Infolinx WEB application is fully configurable, browser agnostic and available for delivery as an on-premises or cloud based solution.
About Infolinx®
Infolinx™ provides DoD5015.02 certified physical records management solutions on-premises or via the cloud. Departmental to enterprise solution functionality includes integrations with Microsoft® SharePoint®, Laserfiche RM, O'Neil's oneilBridge™, Iron Mountain's Connect™, and an industry-leading feature set including advanced retention schedule and disposition management with integrated legal holds and citation reference, space management with billing component, robust searching, online requesting and transferring, permanent audit history, robust reporting, e-mail workflow notifications, and integrated RFID technology. Infolinx Systems Demo.