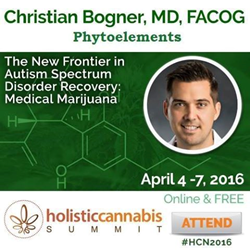 (PRWEB) March 25, 2016
Dr. Christian Bogner will be presenting at The Holistic Cannabis Summit from April 4 - 7. The Summit will include information from top experts, patients, and advocates in the cannabis and functional medicine communities who will answer questions about cannabis – history, dosing, the endocannabinoid system, edibles, state laws, medicinal use, and testing.
Dr. Bogner will be presenting on "The New Frontier In Autism Spectrum Disorder Recovery: Medical Marijuana." The event is online and there is no charge. More information and registration can be found at: http://holisticcannabissummit.com/?orid=268&opid=2.
Women's Excellence is the most comprehensive obstetric and gynecologic office in Michigan. They also specialize in menopause, weight control, bladder control, endometriosis, robotic surgery, pelvic floor physical therapy, and midwifery services. The knowledgeable, well-trained, compassionate physicians and healthcare providers of Women's Excellence are taking new patients and are conveniently located in four locations throughout southeastern Michigan, Birmingham, Lake Orion, Clarkston and Metamora. For more information, visit http://www.womensexcellence.com.