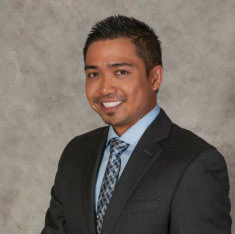 Louisville, KY (PRWEB) March 29, 2016
NeuroRecovery Training Institute (NeuroRTI) is pleased to announce the addition of new faculty member John Zapanta, PT, DPT, OCS, CSCS.
Dr. Zapanta, who is currently enrolled in the Orthopaedic Manual Physical Therapy Fellowship through NeuroRTI's sister company, Evidence In Motion, joined the faculty in February 2016 and will serve as an instructor for NeuroRTI's Manual Therapy Interventions for the Neurologic Patient.
Dr. Zapanta completed his Bachelor of Science in Exercise Science at Creighton University in 2007 and graduated with his Doctor of Physical Therapy degree from Regis University in 2012. In 2013, he completed an Orthopaedic Physical Therapy Residency at Scottsdale Healthcare in Scottsdale, Arizona and passed his board certification exam to become an Orthopaedic Certified Specialist (OCS) in 2014.
"We are thrilled to welcome Dr. Zapanta to the NeuroRTI team as the instructor of our Manual Therapy Interventions for the Neurologic Patient course," said Dr. Tim Flynn PT, PhD, OCS, FAAOMPT. "The purpose of the course is to improve students understanding and application of common musculoskeletal disorders in the neurologically-involved client, with the ultimate goal being a high level of competency in management of the musculoskeletal system in this patient population. Dr. Zapanta's background makes him the perfect candidate to teach this course and we look forward to seeing how our students benefit from his knowledge."
"I am extremely excited to begin work with the NeuroRTI family. It is a thrilling time to bridge neurological and orthopaedic principles together in order to build a comprehensive and integrative approach to care for our patients and I look forward to blending those principles with students attending our July and August courses," said Zapanta.
For more information on the Manual Therapy Interventions for the Neurologic Patient course, a full list of NeuroRTI's educational offerings, or information on how to apply, please visit http://www.NeuroRTI.com.
About The NeuroRecovery Training Institute:
The NeuroRecovery Training Institute (NeuroRTI) is on a mission to create and promote a culture of evidence based practice (EBP) within neurological clinical practice. Through transformational education efforts, with an emphasis on recovery, NeuroRTI has created a full continuum of neurologic training programs including a large nationally-scaled physical therapy Neuro Residency, Postprofessional DPT, Certification, and online Continuing Education (CE) course work for the neurologic interdisciplinary team that includes various topics in the treatment of spinal cord dysfunction, acquired brain injury, and other neurologic disorders. A course on the Pediatric Neuromuscular Recovery Scale, a recovery based outcomes tool will launch in 2016.
###