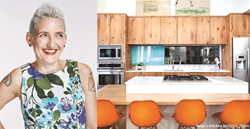 As a company, we believe in the significance of personalization, and this new campaign reflects that passion
AUSTIN, Texas (PRWEB) March 31, 2016
This spring, CG&S Design-Build is proud to announce the launch of a new brand campaign, focused on CG&S's ultimate goal – designing homes to fit their customer's personalities and individual needs. The new campaign refreshes the 50+ year old establishment's look and feel, and will be executed across print and digital platforms throughout 2016. With a wealth of experience, and a reputation for exceptional craftsmanship, CG&S Design-Build will continue bringing personalized, elevated design to homeowners throughout the central Austin area.
"At CG&S we strive to create great homes that perfectly suit the families that live within them," said Dolores Davis, CG&S' General Manager. "Enjoying where you live, and living in a place that feels like you is so important to overall happiness. As a company, we believe in the significance of personalization, and this new campaign reflects that passion, while highlighting the diversity of design we are capable of and showcasing a few of the beautiful homes we have completed."
Committed to providing their clients with a superior home renovation, CG&S Design-Build creates homes that are tailored to their client's individual tastes and needs. The CG&S design team is unique in that they have no set style; rather, they create homes that are contemporary, traditional and everything in between – all with the same dedication to outstanding quality. This is reflected throughout the new brand campaign, created by Austin advertising and public relations agency lookthinkmake. The campaign features a series of side-by-side images – a real homeowner's headshot matched to their completed home renovation from CG&S – comparing the styles of the individual to the finalized project. The campaign emphasizes CG&S' dedication to both designing and building around their client, so they feel uniquely at home in their updated house. As a full service design-build company, CG&S is uniquely positioned to offer their clients a complete range of services, from planning and construction, to details and finishes.
Founded by Clarence and Stella Guerrero in 1957, CG&S has built a reputation as Austin's premiere design-build company. For over 50 years, CG&S has specialized in home renovations and has set the standard for excellence in both construction and design, while still remaining a family-centric business, as is reflected in the acronym of the name: "Clarence Guerrero and Sons." CG&S' commitment to family can be seen in the office every day and through annual traditions such as their long-standing tamale party held in December. Today, CG&S has completed hundreds of projects in Austin and has perfected the design-build process. Recognized throughout Austin and the nation as an award-winning design-build company, CG&S' reputation for quality and reliability is something they've built from the ground up, beginning with what Clarence and Stella Guerrero started almost sixty years ago.
More information about CG&S Design-Build can be found on their website at http://www.cgsdb.com.
###
About CG&S Design-Build
CG&S Design-Build is a high-end Austin residential renovation firm specializing in full-service design and construction services. Started as a family business over 50 years ago, CG&S was founded on a culture of loyalty and dedication to hard work – delivering the highest quality product to their clients. Since then, CG&S has grown into a locally and nationally recognized design-build company with hundreds of projects under its belt, but they haven't forgotten their homegrown roots. CG&S strives for perfection with every client, no matter the size or scope of the project. At their core, CG&S is a group of individuals who work collaboratively toward one sole purpose: making great homes.
Links:
http://www.cgsdb.com
http://www.facebook.com/cgsdesignbuild
http://www.twitter.com/CGSDesignBuild