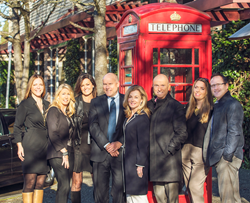 Seattle, WA (PRWEB) April 01, 2016
Executives of Realogics Sotheby's International Realty ("RSIR") are pleased to announce a new branch office in Madison Park within its expanding global brokerage network. The branch will be comprised of a boutique retail storefront called "The Park House" located at 4031 East Madison Street with an administrative annex located across the street at 4020 East Madison Street that offers room to grow. Operations at the annex will begin in April 2016 as the retail experience center is currently under renovation. The Park House welcomes the following brokers as Founding Members: Carrie DeBuys, Laura Halliday and Hoady Spencer. Together these three are resident experts who live and specialize within their immediate communities and beyond including Capitol Hill, Broadmoor, Madison Park, Madison Valley, Denny Blaine, Madrona, Leschi, Mount Baker and Seward Park, among others. Additional broker appointments will be announced as the branch operations expand.
"We are proud to become a long term member of the community and will offer real estate excellence through our resident experts that live and work in these neighborhoods," said Dean Jones, President and CEO of RSIR. "The Park House is offered as a retail living room but it will also be a venue for special events. We will showcase homes from around the corner and around the globe with a focus on sun, snow and surf destinations where our network is especially well-positioned to represent second home lifestyles and investment opportunities."
Now that real estate values are setting new benchmarks in the region, Jones notes an increasing trend for downsizing empty-nesters divesting from larger estates in search of a "lock and leave" condominium or townhome lifestyle while exploring a second home purchase elsewhere. To be sure, the greater central and eastside markets of Seattle witnessed tightening supply so far in 2016. According to RSIR research, median home values in the area (NWMLS areas #380 and #390) skyrocketed by 24-percent for the first quarter 2016. With fewer listings there have been fewer sales overall, however in the luxury segment above $1 million, the total sales increased from 39 homes in 2015 to 49 in 2016 for an increase of more than 25-percent year-over-year.
"There will be sustained demand for Seattle's infill neighborhoods by virtue of local job growth and a maturing professional demographic creating household formation and insurmountable traffic congestion despite recent announcements by Sound Transit," adds Jones. "I believe this is a point of inflection and The Park House will be a timely addition to our regional network as these trends play out."
Jones points to massive employment in downtown Seattle that's drawing thousands of new residents each quarter in addition to job transfers, such as Expedia, which will increasingly relocate 3,000+ positions from downtown Bellevue to Interbay by 2019. Meanwhile, he says a new cycle of condominium developments in downtown Seattle will help compel a growing migration of downsizers while a new generation of homebuyers will seek these family homes within Seattle's most nostalgic communities.
RSIR offers new both construction services to developers and a resale brokerage division servicing at all property types and price points throughout the central Puget Sound region. Its strategy to build out premier retail branches within key growth markets in downtown Seattle, Bainbridge Island, Kirkland, Issaquah and now Madison Park are attracting top-producing brokers. Since forming in 2010, RSIR consistently posts the greatest average production on a per agent basis with the highest average selling prices amongst the top ten largest real estate brands in the region. Its robust marketing department has been innovative in the industry creating unique platforms such as the Asia Services Group targeting the rise of in-bound investment from overseas buyers as well as focused campaigns such as the #NoPlaceLikeOwn initiative that is helping renters understand the benefits of being a homeowner. As the largest affiliate for Sotheby's International Realty in Washington State, executives at RSIR recently appointed Jennifer Johnsen to Vice President of Brand Development focused on broker membership and growth management for the expanding real estate network.
###
About Realogics Sotheby's International Realty (http://www.RSIR.com) - Artfully uniting extraordinary homes with extraordinary lives, Realogics Sotheby's International Realty is a leading global sales and marketing brokerage firm in the Pacific Northwest. Recognized by the Puget Sound Business Journal amongst the fastest-growing private companies in Washington State for 2012, 2013, 2014 and 2015 the boutique real estate firm of 160+ brokers consistently ranks among the top producing firms within the markets that it serves with branches in downtown Seattle, Bainbridge Island, Kirkland, Issaquah and now Madison Park.
EDITORS NOTES: For high-resolution photography contact Andrea Savage at 206.448.5752 or email Andrea(dot)Savage@RSIR.com.