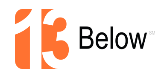 Minneapolis, Minnesota (PRWEB) March 29, 2016
Representatives with 13Below.com announced today the official relaunch and rebranding of the company's website.
"We completely redesigned the website and are excited about its new launch," said David Smithers, Media Consultant and spokesperson for 13Below.com.
13Below.com provides services in three main areas: IT Project Consulting, IT Staffing, and DotNetNuke Development services. Since 2005, 13 Below has provided IT consulting and staffing, augmenting its client's internal support staffs, as well as assisting them in employment searches to locate and place candidate in each high-skill position.
"In business since 2005, we are the industry leader in providing .NET and DotNetNuke programming services to a wide range of clients," Smithers said.
A U.S.-based IT consulting and staffing firms, 13 Below Consulting, according to Smithers, is an expert in DotNetNuke, which allows the company to develop and deploy interactive and dynamic websites, intranets, extranets and web applications.
13 Below Consulting provides .NET consulting and staffing services to their client as well as is able to create and deliver an entire in-house team necessary for any technology-related project. 13 Below consultants are available in all U.S. markets. The firm can entirely execute its clients' project needs, providing milestone and project updates through completion.
To learn more about 13 Below, please visit http://www.13below.com/about and http://www.13below.com/consulting
About 13 Below
13 Below Consulting is based in Minneapolis, Minnesota, and has been providing IT consulting and staffing services since 2005. 13 Below consists of an IT services division and a DotNetNuke division.
Contact Details:
8646 Eagle Creek Circle
Suite #211
Minneapolis, MN 55378
Phone: (612) 355-1280
Toll Free: (877) 770-7794
Fax: (612) 355-1280
Source: 13 Below Consulting
###