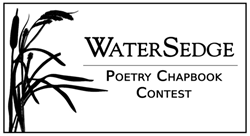 We're thrilled and honored to have poet laureate Amit Majmudar judge our poetry chapbook contest.
Wood Ridge, NJ (PRWEB) March 30, 2016
Ohio's Poet Laureate Amit Majmudar to Judge the WaterSedge Poetry Chapbook Contest
Amit Majmudar, the first poet laureate of Ohio, will judge the WaterSedge Poetry Chapbook Contest. The son of immigrants, Majmudar stepped into the national spotlight recently when he attended the televised Democratic Presidential Town Hall in Columbus, Ohio, and questioned former secretary of state Hillary Clinton and Sen. Bernie Sanders about their strategies for defeating Republican frontrunner Donald Trump.
Majmudar was appointed in 2015 to the two-year honorary position of poet laureate by Ohio's Republican governor, John Kasich.
******* "The most important question of the 2016 presidential campaign was asked by an Indian –American doctor and poet named Amit Majmudar." –TIME 03/17/2016 ********
The WaterSedge Poetry Chapbook contest is hosted by Writer's Relief, Inc., an author submission service. The chapbook contest runs to May 25, 2016. The winning poet will receive a $500 cash prize; publication of the poetry chapbook in both print and e-book formats; Amazon distribution for Kindle and print; and 25 free print copies.
"Offering both print and e-book publication makes the WaterSedge contest a bit unique," said Writer's Relief's president, Ronnie Smith. "Most writing contests only offer either print or e-book publication, not both. We're expecting a lot of interest and participation."
The contest is limited to poetry chapbooks 24- 48 pages in length, and the entry fee is $20. For complete contest submission guidelines, visit http://writersrelief.com/watersedge-poetry-chapbook-contest/ or call toll free (866) 405-3003.
"We're thrilled and honored to have poet laureate Amit Majmudar judge our poetry chapbook contest," added Smith.
Majmudar is the author of two novels and several poetry collections. He was a finalist for a Poetry Society of America's Norma Faber First Book Award, and his poetry was selected for a Donald Justice prize. His most recent collection of poems, Dothead, was published on March 29. Majmudar's poetry has appeared in The New Yorker, The New York Review of Books, The Atlantic Monthly, Poetry Magazine, and The Antioch Review. His work has been featured in several anthologies, including Best of the Best American Poetry, 1988-2012.
Since 1994, the Writer's Relief office has been located a stone's throw from the New Jersey Meadowlands: a large ecosystem of wetlands in the metropolitan region and an important bird habitat. The water sedge is one of several endangered plant species struggling to survive in this environment.
"The efforts of water sedge to flourish despite difficult odds seems kindred in spirit to poets hoping to successfully publish their poetry books and chapbooks in an uncooperative publishing environment," noted Smith. "With the WaterSedge Poetry Chapbook Contest, we hope to help poets thrive and succeed."
Writer's Relief helps writers achieve their publishing goals by expertly targeting their work to literary agents and editors—with no submission spam, ever; building author websites; and guiding writers through the self-publishing process. You can learn more about Writer's Relief here: http://writersrelief.com/
Contact info:
Ronnie Smith, President,
Writer's Relief, Inc.
Ronnie(at)wrelief(dot)com
207 Hackensack Street
Wood-Ridge, NJ 07075
(866) 405-3003 (toll-free)
END
###