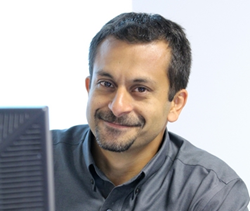 There will be a lot of great SharePoint knowledge shared in DC.
Chicago, ILL (PRWEB) March 30, 2016
On April 28 and 29, 2016, SharePoint expert Asif Rehmani will be sharing his knowledge of SharePoint tools, features, and capabilities at SharePoint Fest DC 2016 in Washington, DC.
"I am very excited to be a part of this year's event," said Rehmani. "There will be a lot of great knowledge shared in DC. We're also excited about exhibiting our VisualSP Help System for SharePoint's 2010, 2013 and Online versions."
Rehmani has been training, consulting, writing and speaking on SharePoint technologies since 2002. He is a SharePoint Server MVP and MCT, and he has been invited to speak at numerous conferences around the world including Microsoft's TechEd, SharePoint Conference, SPTechCon, SharePoint Connections, Best Practices Conference, and SharePoint Saturdays. His company, VisualSP (formerly known as SharePoint-Videos), supplies hundreds of SharePoint video tutorials and now provides an in-context, on-demand help system that sits inside the SharePoint interface.
VisualSP is also providing attendees a 25% discount when they register with the promotional code "VisualSP25". Get tickets here.
For more information about the VisualSP Help System for SharePoint, visit the company website at http://www.visualsp.com.
To view the conference agenda, click here.