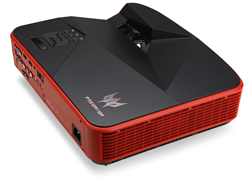 The Predator Z850 was lauded as a CES 2016 Innovation Award Honoree.
SAN JOSE, Calif. (PRWEB) March 30, 2016
Editors' Summary

Cutting-edge laser projector delivers 24:9 ultra-wide HD images for enjoying games with a wider field of view on either a wall or big screen, making it ideal for parties
Mirror-less ultra-short-throw technology projects large images up to 120 inches from as little as 18.5 inches from the screen, providing flexibility in placement options
High 3,000 ANSI lumens brightness provides stable and vibrant picture quality
Laser illumination technology contributes to superb brightness and stunning colors
Acer, the world's third largest brand for projectors, today announced the availability of its award-winning Predator Z850 gaming projector. The Predator Z850 is the world's first ultra-wide HD laser projector designed for gaming, and expands Acer's Predator gaming product portfolio, which also includes desktops, notebooks, tablets and monitors. For its outstanding design featuring red accents and a black chassis with geometric lines, the Predator Z850 was lauded as a CES 2016 Innovation Award Honoree.
Command the Battlefield
Whether gamers are sniping hostiles in the jungle or defending the mothership from alien invaders, the Predator Z850's 24:9 ultra-wide HD resolution (1920 x 720) expands the battlefield like never before. The Predator Z850 displays a 50 percent wider image compared to traditional 16:9 screen resolutions. This feature augments a gamer's peripheral vision to present a competitive edge over enemies in all types of games.
Ideal for Tight Spaces
Thanks to innovative mirrorless ultra-short-throw technology, the Predator Z850 projects a 120-inch screen at a remarkably short distance of just 18.5 inches (47 cm). This means no more shadow interference at crucial moments during gameplay. A top-mounted lens and adjustable feet allow for effortless deployment without any drilling or mounting required, ideal for quick setup at LAN parties. The Predator Z850 can be packed immediately after use without requiring a cooling period and automatically performs a safety shutdown after a set time.
Laser Diode Lighting the Way
The Predator Z850's advanced laser diode delivers bright images up to 3,000 lumens with a wide color gamut that brings games to life. An astounding 100,000:1 contrast ratio allows the projector to deliver vivid images with deep, rich blacks and incredibly crisp whites, even at massive screen sizes. In addition, its laser diode lamp lasts up to 30,000 hours , while Acer ColorBoost3D improves color performance for both 2D and 3D visuals, and Acer ColorSafe II minimizes color decay.
Freedom from Wires
Pair the Predator Z850 with an optional Wireless HD-Kit to enable 1080p lossless wireless streaming. This keeps the living room clutter-free from unsightly cables, a very useful feature in premium homes with a modern décor.
The Acer Predator Z850 projector is available in the United States for $4,999 (MSRP).
About Acer
Established in 1976, Acer is a hardware + software + services company dedicated to the research, design, marketing, sale, and support of innovative products that enhance people's lives. Acer's product offerings include PCs, displays, projectors, servers, tablets, smartphones and wearables. It is also developing cloud solutions to bring together the Internet of Things. Acer is celebrating its 40th anniversary in 2016 and is one of the world's top 5 PC companies. It employs 7,000 people worldwide and has a presence in over 160 countries. Please visit http://www.acer.com for more information.
© 2016 Acer Inc. All rights reserved. Acer and the Acer logo are registered trademarks of Acer Inc. Other trademarks, registered trademarks, and/or service marks, indicated or otherwise, are the property of their respective owners. All offers subject to change without notice or obligation and may not be available through all sales channels. Prices listed are manufacturer suggested retail prices and may vary by location. Applicable sales tax extra.