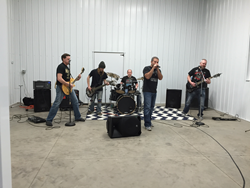 Urbana, IA (PRWEB) March 30, 2016
A five-member band made up of Clickstop employees and friends has moved onto the final round of the Battle of the Bands, sponsored by the Corridor Business Journal.
The competition features Corridor-area bands. Each band must have at least half of its members employed by the sponsoring company.
Clickstop's band, 5 Second Rule, includes members Tim Guenther, Kraig Kirchhoff, Nate Merrifield, Matt Hummel, and Scott Keeling. Other area bands competing include NewBo Jacksons (company: Eco Lips); Daylight Savings Account (company: Hibu); Newsflash (company: KGAN CBS 2/FOX 28 and CBJ); The Hubcaps (company: Nelson Electric); and Catastrophy (company: UFG).
The final round of the competition will take place on April 28th from 6-9 pm at Cedar Ridge Winery and Distillery in Swisher. Each band will have 15 minutes to play. An independent panel of industry experts will judge the competition. Bands will be judged based on music, originality, stage presence, appearance, personality, and crowd applause.
Tickets are $25 per individual. A complimentary drink and hors d'oeuvres will be provided. For more information or to register, visit http://www.corridorbusiness.com/events. Registration closes April 21. Tickets will be $40 per individual after April 21st.
###
About Clickstop, Inc.
Clickstop is the parent company of a suite of brands based in Urbana, Iowa. Its focus on great workplace culture has landed the company multiple work environment-focused awards including two first place achievements as the Coolest Place to Work. Clickstop brands serves diverse markets that include the moving and cargo control industry, energy efficient insulation products, and home organizing solutions. For more information visit Clickstop.com.