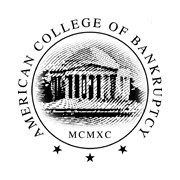 Stanardsville, VA (PRWEB) March 30, 2016
The American College of Bankruptcy (the "College") announced today its 2016 Distinguished Service Award recipients: Henry J. Sommer of Philadelphia, Pennsylvania and Prof. Jay L. Westbrook of Austin, Texas. Sommer and Westbrook were awarded this distinction at the Class 27 Induction Ceremony held at the Smithsonian Donald W. Reynolds Center for American Art and Portraiture in Washington, D.C. on March 18, 2016. The award was presented by Prof. Alan N. Resnick of the Maurice A. Deane School of Law at Hofstra University.
Criteria for selection as a Distinguished Service awardee include: significant accomplishments in improving the administration of justice in the insolvency and bankruptcy field; distinguished service consistently rendered over a considerable period of time or a single outstanding achievement in a particular year; accomplishments arising from voluntary activities rather than for services rendered to a client as a paid professional; membership in the American College of Bankruptcy; and distinguished in his or her institution in a manner and in matters that are consistent with the goals and purposes of the College.
After graduating from Harvard Law School in 1974, Henry J. Sommer devoted his legal talents to helping the poor at Community Legal Services in Philadelphia, where he served as the head of its Consumer Law Project for over 20 years. Henry is now the Supervising Attorney at the pro bono Consumer Bankruptcy Assistance Project in Philadelphia.
"As this nation's most prominent and influential voice for consumer debtors, and for his extraordinary dedication to the improvement of consumer bankruptcy law, Henry is especially deserving of this honor," stated Resnick in his opening speech.
Prof. Jay L. Westbrook, a member of the faculty of the University of Texas Law School for more than 35 years, is one of the nation's most distinguished teachers and scholars in the bankruptcy field. Jay has received numerous awards for excellence in teaching, including the "Excellence in Education Award" of the National Conference of Bankruptcy Judges, and the University of Texas Law School's "Outstanding Teacher Award."
According to Resnick, Westbrook is "a brilliant teacher and one of the most influential and highly-respected bankruptcy scholars of his generation. Jay is especially deserving of this honor."
The American College of Bankruptcy is an honorary association of bankruptcy and insolvency professionals and plays an important role in sustaining professional excellence in the field. College Fellows include commercial and consumer bankruptcy attorneys, judges, insolvency accountants, turnaround and workout specialists, law professors, government officials and others in the bankruptcy and insolvency community. The College offers unique and challenging educational programs and publications, maintains the National Bankruptcy Archives at the University of Pennsylvania School of Law, and, in conjunction with the American College of Bankruptcy Foundation, is believed to be the single largest financial supporter of pro bono bankruptcy services in the United States. 
For more information about the American College of Bankruptcy Distinguished Service Award, contact Shari A. Bedker, Executive Director at 434-939-6004, fax at 434-939-6030, or email at sbedker(at)amercol(dot)org.