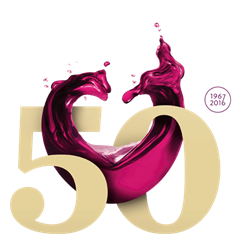 We have created a dedicated forum for B2C events in the heart of Verona to complement the trade focus at the trade exhibition quarters at Veronafiere
Verona, Italy (PRWEB) March 30, 2016
As Vinitaly, the world's largest wine showcase prepares to ring in its silver anniversary, there seems to be a unique line-up of tastings and competitions planned for the occasion.
The festivities officially kicked off at a press conference in Rome on March 16, where those producers who are themselves celebrating 50 years of exhibiting at Vinitaly, a group that includes more than 40 of Italy's most historic wineries, were presented with certificates of commemoration.
"For us it is an honor and a source of pride," says Sabrina Tedeschi, of Tedeschi Wines in the Valpollicella region, one of the original exhibitors at Vinitaly. "It is very meaningful to us to have believed in a project that was born in Verona, an event that has brought our city into the spotlight of the world of wine. Being among the first participants means that we've given our small contribution in communicating the value of our land and our denomination to the world, starting many years ago when it wasn't much valued."
The celebration moves to Verona on April 1, with two innovative wine awards. The Vinitaly 5 Star Wines award is the evolution of Vinitaly's International Wine Competition, which began conferring medals to outstanding Italian and international wines 23 years ago. The competition will be managed by Stevie Kim, Managing Director of Vinitaly International along with Ian D'Agata, the Scientific Director of the Vinitaly International Academy (VIA), and judged by a panel of international wine experts, including Masters of Wine, Master Sommeliers, and many graduates of the VIA certification course in Italian wines. The second competition, Wine Without Walls, is Vinitaly's first contest for natural wines, or those made with minimal additives or technological interventions. Chaired by American journalist and natural wine champion Alice Feiring, a panel of international specialists will assess the wines based on a series of qualities – including evolution in the glass and emotional impact – rather than assigning scores.
The fair itself will run from April 10-13, and for the fifth year, will be preceded on April 9 by Opera Wine, a tasting of Italy's 100 best wines as chosen by Wine Spectator magazine. In keeping with its musical theme, this year's tasting will also feature special guest Sting, pouring "Sister Moon," a biodynamic IGT Toscano Rosso produced on the English singer-songwriter's Tuscan estate.
In honor of the renowned "Father of Super Tuscans" himself, a tasting has also been planned in memory of Giacomo Tachis. The Italian wine revolutionary, who passed away this February at the age of 82, worked to develop may acclaimed Italian wines, including Sassicaia, Tignanello and Solaia, and is credited with helping bring the Italian wine industry into the 20th century.
While industry professionals gather in the fairgrounds, wine lovers of all persuasions will find something of interest at Vinitaly and the City, a packed calendar of tastings, concerts and guided visits in the heart of Verona. "This is the first year that Vinitaly and the City takes on a 'fuorisalone' format," explains Stevie Kim, "creating a dedicated forum for B2C events in the heart of Verona to complement the trade focus at the trade exhibition quarters at Veronafiere."
http://us12.campaign-archive2.com/?u=066bc66c600065da1f28e684d&id=d5a3e36920&e=54acbfde99
More than 150,000 visitors from around the world are expected to attend this year's fair.
About:
Veronafiere is the leading organizer of trade shows in Italy including Vinitaly (http://www.vinitaly.com), the largest wine and spirits fair in the world. During its 49th edition Vinitaly counted some 4,000 exhibitors on a 100,000 square meter area and 150,000 visitors including 2,600 journalists from 46 different countries. The next edition of the fair will take place on 10 - 13 April 2016. The premier event to Vinitaly, OperaWine (http://www.vinitalyinternational.com) "Finest Italian Wines: 100 Great Producers," will unite international wine professionals on April 9th in the heart of Verona, offering them the unique opportunity to discover and taste the wines of the 100 Best Italian Producers, as selected by Wine Spectator. Since 1998 Vinitaly International travels to several countries such as Russia, China, USA and Hong Kong thanks to its strategic arm abroad, Vinitaly International. In February 2014 Vinitaly International launched an educational project, the Vinitaly International Academy (VIA) with the aim of divulging and broadcasting the excellence and diversity of Italian wine around the globe. VIA has now also organized its very first Certification Course with the aim of creating new Ambassadors of Italian Wine in the World.
# # #