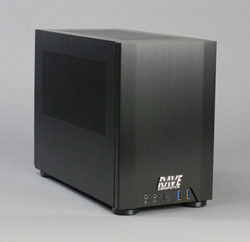 I saw a need for this machine from the moment it came out of product development
Sterling Heights, MI (PRWEB) April 01, 2016
Rave Computer recently introduced two new workstations that offer their clients unheard of power in a small form-factor workstation. The Rave Mobilebeast allows Rave's customers to tackle the toughest computer processing challenges. Real-time photo-realistic product rendering, 4/6K video creation, content deployment, complex visualizations, and super high-resolution displays are only few of the most demanding computational problems the Mobilebeast can handle.
"We have clients begging every day for enhanced workstation capabilities, including high-speed processors and graphics cards, super-quiet sound profiles and small form-factors," States Mike LaJoice – Commercial Business Unit Manager for Rave. "Our clients are looking to make that next step and give their end customers better solutions."
The Rave Mobilebeast comes in two variations - "Senior" and "Ultimate." Both are armed with Intel® Xeon® processors, and a choice of NVIDIA® Quadro® M5000, M6000 or M6000 24GB video cards. The processors are liquid-cooled which allows the system to run nearly silent. Pricing starts at $7,000 and each system is configurable with RAM, hard drive and SSD options.
"I saw a need for this machine from the moment it came out of product development," added Steve Couchman, Director of Marketing for Rave. "Every day I have a new challenge. Whether utilizing 3D animations, editing and rendering 4K video, using CAD programs to lay out trade show booths, I need something powerful enough to handle everything. The Mobilebeast now sits on my desk, crunching out data and content, and gives me back hours of productivity every day."
For more information about Rave Computer or the Mobilebeast, you can visit them on their website: http://www.rave.com