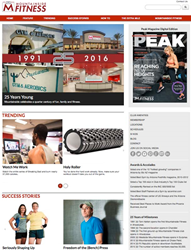 We're excited that DCP's eMag product has gained traction in the marketplace. We are working with several of our clients to build their eMag publication, and the response has been excellent,—Barney Fonzi, President of Diablo Publications
Walnut Creek, CA (PRWEB) March 31, 2016
Diablo Custom Publishing (DCP), a division of Diablo Publications, has been selected to produce Mountainside Fitness' eMag website, msfpeakmagazine.com. The eMag features all the content that is in the print magazine, Peak, in a mobile-friendly and responsive website format that allows for an enhanced desktop and mobile experience. Mountainside Fitness' visitors can now read and enjoy the magazine's content on any mobile device.
DCP's first produced product for Mountainside Fitness, Peak magazine, which launched January 2016, celebrated the company's 25th anniversary. Moving forward, the magazine will be published quarterly as a 20-page magazine, combining what's trending in the fitness arena, success stories, how-to guides, member benefits, class highlights, instructor access stories and a calendar of events.
The eMag content is presented in an engaging and informative manner, offering the ability to share articles through the use of social media. The eMag site also has links that connect to important areas on the main website, mountainsidefitness.com. All the content from Peak magazine will be search engine optimized, enabling the content to be found by anyone searching for health- and fitness-related articles or information about the fitness center.
DCP's eMag products are responsive websites that allow clients to add dynamic content to the website easily, without expensive programming or labor-intensive administration. eMags deliver the user experience you'd expect from high-end consumer magazines—engaging, dynamic content thoroughly integrated with a company's main Web, mobile and social media sites. Now, when DCP clients publish custom articles, videos or other content, it will be optimized for whatever devices their audience uses.
"We're excited that DCP's eMag product has gained traction in the marketplace. We are working with several of our clients to build their eMag publication, and the response has been excellent," states Barney Fonzi, President of Diablo Publications. "DCP clients can now offer their printed magazine in an easy-to-read mobile format. Mobile isn't the future; it's here now, and DCP has embraced the mobile platform as a content delivery vehicle."
About DCP
Diablo Custom Publishing (DCP), a leading custom publisher based in the San Francisco area, provides complete print, online and mobile custom publishing services to a diverse group of clients, including top-level organizations in the health care, higher education, arts and entertainment, sports, and technology sectors. With over 30 years of experience and an award-winning creative team, DCP develops integrated marketing solutions that help companies communicate brand value, deepen customer loyalty and increase revenue. DCP clients include 30 local and national custom publishing clients for which it produces 118 publications annually.
About Diablo Publications
For 35 years, Diablo Publications (DP) has been creating award-winning publications, including Diablo magazine, Napa Sonoma magazine, Concierge Wine Country, the Diablo City Book Series, Diablo Arts, Diablo Weddings, Concierge East Bay and the Tri-Valley California Visitors Guide. Covering travel, theater, lifestyle and home design, DP celebrates the people, places, and pleasures of the East Bay and North Bay. DP's consumer publication division produces seven local titles and publishes 24 magazines annually, in addition to multiple websites, e-newsletters, digital editions of publications, mobile apps, and tablet magazines. Additionally, DP produces three signature events and several custom events for its clients.
About Mountainside Fitness
Mountainside Fitness is the largest locally owned health club chain in the state of Arizona. With 13 fitness centers across the valley and more opening in 2016, membership will increase to just over 60,000 active members.