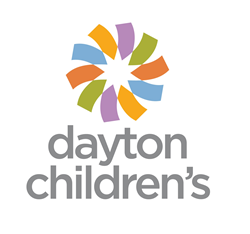 The white star within the center of the logo shows that the child is our singular focus.
Dayton, OH (PRWEB) March 31, 2016
Dayton Children's Hospital reveals a new brand identity to reaffirm its mission, vision and commitment to kids and the community, propelled to provide the very best specialized pediatric care, close to home. The new logo is a whirligig – a spinning circle of colorful ribbons linking all caregivers, those inside the hospital as well as those outside the walls, to the child – the star at the center of it all.
Transformational change
This is a pivotal time for Dayton Children's. The hospital is engaged in an historic change – recruiting the best specialists from around the world, engaging in revolutionary research, revitalizing the hospital's campuses, expanding into outlying communities to be close to home for families, championing advocacy for children's health issues, and offering more services in more places than ever before.
"Dayton Children's is not the same hospital it was, even just a few years ago," says Deborah A. Feldman, president and CEO. "Through extensive research and brand surveys, we realized that our image in the community did not keep up with the evolution happening inside our walls.
"While it's true that we are compassionate caregivers, we are also transforming care for children. We have a commitment to advance the health status of all children in our region, regardless of if they ever visit the hospital. So to define our evolution, to highlight our innovation, to renew our commitment to the community and to reaffirm our mission of providing the best care for kids, we chose a new logo that represents all of these things."
The Whirligig
The inspiration for the new logo comes from Dayton's history of innovation in flight and connects to the hospital's new design theme of "things that fly." As children, the Wright brothers were inspired when their father brought a toy whirligig to their Dayton home. It seemed to defy gravity, floating when it should have fallen. Their awe ignited a passion that would change the world. Dayton Children's passion to care for kids is just as strong.
Each portion of the logo has a specific meaning. "The white star within the center of the logo shows that the child is our singular focus," says Kelly Kavanaugh, vice president of marketing and strategic planning. "The ribbons represent the many members of our community that surround a child with care and support, as well as the many members of the care team that surround them at Dayton Children's. The vibrant colors represent the variety of services we provide, the diversity of the patient population we serve and the bright future we think all kids deserve. The lower case font illustrates how we address items at a child's level and demonstrates our humility in being a community-supported health care system."
When exceptional care counts
Paul Neef, knows first-hand how exceptional the care is at Dayton Children's after his 10-year-old daughter, Amanda, suffered a stroke on the playground last September. "I knew I could bring my son here when he broke his arm, but I never dreamed I would be back a few months later with my daughter to have emergency brain surgery. Even though what happened to Amanda was incredibly rare, her neurosurgeon was able to look me in the eye and say 'I have operated on thousands of children's brains' and that's when I knew Amanda was receiving world-class care."
The Neef family's experience shows the momentous changes are not only in bricks and mortar, but in the people inside the buildings. In the past few years, the hospital made amazing advancements and continues to build on these achievements.
-Recruited dozens of new specialists bringing new services, like advanced pediatric ENT and airway and the autism diagnostic center
-Achieved Magnet recognition – the highest national nursing honor, recognizing excellence in quality and safety
-Created the Center for Pediatric Mental Health Resources to serve the exploding mental health need and bring together a variety of hospital and community services under one umbrella
-Launched the Center for Child Health and Wellness to focus on making the Miami Valley one of the healthiest places to grow up through education and outreach, child health policy and research
-Joined the Wright State University & Premier Health Neurosciences Institute to lead pediatric neuroscience research and make discoveries that could change the fight against childhood brain tumors
-Collaborated and partnered with other hospitals, universities, local schools, public agencies and organizations to lead innovations in research and transform care
Community collaborators
Dayton area firm, Graphica, designed the new brand identity. In return, because Graphica's employees are so supportive of the project, they donated a portion of their services. "The rebranding initiative has been one of those projects that has personally energized us," says Cindy Schnell, vice president of Graphica. "We are excited to be part of the transformation of the hospital." It's that generous support and community commitment that so often takes a project at Dayton Children's from good to great.
Inventing a new future
"Our previous logo will always hold a special place in our heart," says Feldman. "It represents our heritage, our history of compassionate care and the rock-solid foundation upon which we are built. But now it is time to take the Wright brothers lead and invent a new future. Using the icon that was their inspiration will guide us to always soar to new heights for kids."
See the Dayton Children's Hospital brand promise.
About Dayton Children's
One of only 45 independent freestanding children's hospitals in the country, Dayton Children's is the region's only medical facility dedicated to children. Accredited by The Joint Commission and serving 20 Ohio counties and eastern Indiana, the experts at Dayton Children's care for 300,000 children each year. Consistently recognized as one of the country's best and most cost-effective pediatric hospitals, Dayton Children's is home to the Wright State University Boonshoft School of Medicine, Department of Pediatrics and together with the United States Air Force shares the nation's only civilian-military integrated pediatric training program. For more children's health and safety information, visit our web site at http://www.childrensdayton.org.