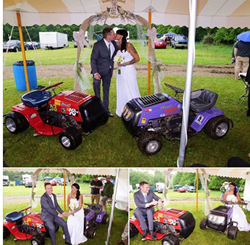 "No matter where you mow, there you are." - Bruce Kaufman, "Mr. Mow It All."
Northbrook, IL (PRWEB) April 01, 2016
To mark it's 24th birthday, on April Fool's Day, the U.S. Lawn Mower Racing Association (USLMRA) has announced that the Carolina Speedway in Gastonia, North Carolina will host the 2016 STA-BIL® 360 Performance Finals, as America's most affordable motorsport continues to mow and grow across the country.
The STA-BIL 360° Performance Nationals will determine champions in 11 classes who race at speeds of up to 60 mph with all blares removed. Racers compete for trophies, glory and bragging rights.
Racers from 20 states and regions are scheduled to compete including sod slingers from the Arkansas, Florida, Georgia, Illinois, Mason-Dixon, Michigan and Tennessee Lawn Racing Associations as well as from local lawn mower racing tracks across the country. Racers include The Ace of Blades, The Garden Gangster, Turfinator, and Sodzilla.
"We're 'mowtivated' to have Carolina Speedway host the crown jewel of our national racing series," said USLMRA President Bruce Kaufman, Mr. Mow It All. "The Carolina Speedway is building a new, purpose-built lawn mower racing track that is designed to handle the ever-increasing speeds of our mowers, while providing a safe, smooth, wide track. And that's no foolin'!"
STA-BIL® has been USLMRA Title Sponsor throughout the 24-year USLMRA history and has nurtured a culture unique in American motorsports, where community, camaraderie, fair play and family togetherness are played out at dirt tracks, fairgrounds, municipal properties and local establishments from coast to coast.
About the USLMRA
Founded on April 1, 1992, the USLMRA sanctions and presents organized lawn mower racing across America including the 18-race STA-BIL National Lawn Mower Racing Series and a network of 50 Local Chapters and Affiliated Clubs hosting more than 250 sanctioned races nationwide every year. STA-BIL lawn mower racers compete in ten classes with all cutting blades removed for trophies, points and bragging rights.
Founded in 2009, the USLMRA National Lawn Mower Racing Hall of Fame is a place of honor for Turf Titans who have turned a weekend chore into a competitive sport. The USLMRA National Lawn Mower Racing Hall of Fame & Museum of America is located at Miller Lawn and Power, 1299 Harding Highway East State Road 309, Marion, Ohio.
About STA-BIL 360° Performance
STA-BIL®, America's Number One Fuel Stabilizer offers the industry's latest technology featuring 5-in-1 engine performance boosting benefits, while providing customers the same STA-BIL fuel stabilization and protection they have known and trusted for decades.
The new STA-BIL 360° line is designed to support consumers seeking ultimate performance in the automotive, boating, powersports and small engine categories. STA-BIL 360° technology prevents corrosion above the fuel line by releasing a vapor that coats all metal parts of the fuel system, including the fuel tank, fuel sending unit, valves, carburetor, and fuel injectors with a microscopically thin corrosion preventing shield.
For mow info please visit http://www.letsmow.com.
#####