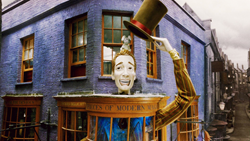 Fred Weasley is like a lot of young entrepreneurs. He's full of ambition and ideas, but he needs to develop a solid understanding of how to manage a business so he can put them into action."
London, England (PRWEB UK) 31 March 2016
London School of Marketing has released its latest blog post. It takes a light-hearted look at how studying business management could help Harry Potter character Fred Weasley to make a success out of his shop, following the death of his brother. The post provides readers with an insight into how cultivating his key business skills could help Fred to take Weasley's Wizarding Wheezes to the next level.
Anton Dominique, the school's chief marketing officer, said: "Fred Weasley is like a lot of young entrepreneurs.
"He's full of ambition and ideas, but he needs to develop a solid understanding of how to manage a business so he can put them into action."
The blog post discusses some of the skills which are developed during a business management degree. Students are taught how to sell products to an international market, how to meet a need in the market and how to nurture business contacts. The post explains that Fred Weasley needs a comprehensive marketing strategy and the ability to gain the competitive edge if he wants his joke shop to be a success.
The full blog post, including a more detailed look at how Fred Weasley could benefit from a degree in business management, can be viewed here. The internationally recognised courses and qualifications offered by the school, including its business management degree, can be viewed at http://www.londonschoolofmarketing.com.
London School of Marketing delivers accredited marketing and business qualifications, and offers professional courses from recognised professional bodies such as CIM, DMI, EduQual and academic qualifications on Marketing, Business, Finance, Law and HRM from Anglia Ruskin University and The University of Northampton. Based in Central London, they are a QAA approved institution. The school also has offices in Sri Lanka, a network of Local Access Points (LAPs), and online programmes of learning.