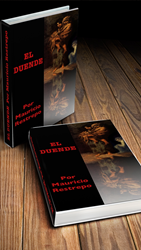 "It is a rural legend...in which the elf was the villain and was always victorious. It was an abominable and frightening character, which ... indirectly served as admonition and corrective behavior." ~Mauricio Restrepo
Hialeah, Florida (PRWEB) April 02, 2016
Florida National University's (FNU) Dental Department Head, Mauricio Restrepo branches out in his talents with a newly published book, "El Duende", a series of short stories originally issued through Palibrio Publications that is now available on Amazon, Barnes & Noble, and Google Play for $17.95 in paperback.
"El Duende" is translated from the original publication that was in Spanish. Mauricio provides a description that entices one to read the story:
"The Elf story, as presented in this book, is based on the stories that our grandmothers told us when we were kids. It is a rural legend, our folklore, with simple and brief language, in which the elf, was the villain, and was always victorious. It was an abominable and frightening character, which produced chills in us and indirectly served as admonition and corrective behavior. However, like our grandparents, and many other treasures of our traditions that have lost their validity with the passing of the years, the elf began to disappear, to almost be forgotten. With this book, not only do I relive in this present time the mythical character of our Hispanic-American culture, but also I re-locate geographically in the place where I lived and enjoyed my childhood. I give a source, an identity, a place in history, and a voice with his version of events. In the end, if we could call it that, I give the outcome I always wanted for him in my dreams, or rather nightmares for the elf was featured in my childhood."
Restrepo is the longest standing faculty member at FNU.
"It seems like he (Dr. Jose Regueiro) always had a plan for me," says Restrepo.
He began as Dr. Regueiro's student, and was taken under the university founder's wing. Coming from a family of jewelers, Restrepo found himself naturally talented at dental work, which as he puts it, "is not that different from jewelry making." Dr. Regueiro asked Restrepo to replace him during the second semester at FNU as a professor. This is where he got his start and is now the acting Dental Department Head of the university. His success both in the world of dental labs and fiction writing speaks volumes of his versatility and talents.
Restrepo is a natural born storyteller. At the age of 14 he wrote a short story and submitted it to a contest in Latin America not expecting any response. "I sent it by mail, never cared about it, and they told me that I had won. I never paid attention to it because I was young." He later found himself telling children in his family ghost stories that had been passed down from his grandmother. As an avid reader, Mauricio had always been fond of literature and writing. Restrepo could not have predicted the success that he would find later in life with his "hobby," as he affectionately refers to it.
This is the second novel that he has written, after his first publication Angel infernal. He has taken in this novel one of the ghost stories passed down from his grandmother and crafted it into a story of his very own, giving the main character an origin story and an ending. Restrepo often takes elements from his own life and weaves them into his stories. For instance, in his first book he used his sister's likeness as a main character, bringing personal and relatable elements to his work.
Restrepo's success extends outside of the United States to countries such as Czechoslovakia and Korea, where his novels are also available for purchase.
Contact Mauricio Restrepo for an interview at mrestrepo(at)fnu.edu, or by mail at Florida National University, 4425 W. Jose Regueiro (20th) Avenue, Hialeah, Florida 33012.