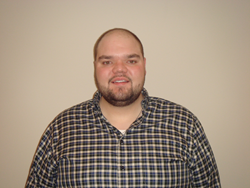 (PRWEB) April 04, 2016
Roll-Kraft, an internationally known supplier of roll tooling to tube and pipe and roll forming manufacturers, is pleased to announce the addition of engineers in the following areas of expertise:
Steve Leposa will be focused on designing tooling for both the roll forming and tube and pipe divisions of Roll-Kraft. His previous experience includes electro/mechanical design at Spang Power Electronics and mechanical engineering at The Cleveland Punch and Die Company, where he was influential in their move to a lean manufacturing environment. He holds a Bachelor of Science degree in Mechanical Engineering from the University of Akron.
Abishek Samuel comes to Roll-Kraft from General Electric, where he was a mechanical engineer, and prior to that was at Polaris Financial Technology in Chennai, India. His academic history includes many design and analysis projects. He has a Bachelor of Engineering degree from Sathyabama University in India, as well as an M.S. Mechanical Engineering degree from the University of Southern California (USC). He was awarded Certificates of Merit by Sathyabama University for being at the top of his class during the years of 2007-2011. He will design tube and pipe tooling at Roll-Kraft.
Chaitanya Lomte joins Roll-Kraft and will concentrate on roll form tooling as a mechanical engineer. Previously, he held the position of Design Engineer at GE Lighting and interned in mechanical engineering at Provest Engineering in India. He holds a Master of Science degree in Mechanical Engineering, as well as a Bachelor of Mechanical Engineering degree from Finn College of Engineering at Cleveland State University in Cleveland, OH. During his time at Cleveland State, he became a Graduate Teaching Assistant, tutoring other engineering students. He has participated in many academic projects, including Gantt chart implementation under Six Sigma. Lomte has many honors, which include membership in Tau Beta Pi, the national engineering honor society; the Dean's List; and he is a member of the American Society of Mechanical Engineering.
The additions to the engineering team will enhance Roll-Kraft's ability to deliver tooling to its customers that performs the first time, out-of-the-box. In 2015, 96.7% of Roll-Kraft's tooling deliveries met this standard. The company's latest tube and pipe and roll form tooling first-time performance stats are available anytime on the Roll-Kraft website.
Roll-Kraft has its headquarters in Mentor, Ohio, and maintains other facilities in Frankfort, Illinois (Roll-Kraft Northern), Houston, Texas (Roll-Kraft Texas), and Ontario, Canada (Roll-Kraft Ltd.). Calls to the company's main line, (888) 953-9400 or (440) 205-3100, are greeted by a live operator who can assist callers in quickly reaching a technician, engineer, or sales staff, who can provide immediate assistance. The company's fax number is (440) 205-3110.
Learn more about Roll-Kraft's products and services by visiting the website at roll-kraft.com. For easy and immediate contact with Roll-Kraft that transcends time zones and working hours, simply complete and submit an online form and Roll-Kraft will respond.