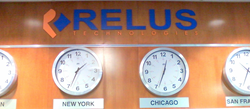 Atlanta, GA (PRWEB) March 31, 2016
On April 1st, Relus Technologies CEO, Mark Metz, will be live broadcasted on the Nasdaq billboard in Times Square from the ribbon cutting of the new Analytics Lab at Furman University. Since Mark is an alumnus of Furman University, Relus was inspired to sponsor the analytics lab, which now features the Relus Technologies Data Wall.
The Hurley Finance & Business Analytics Lab aims to enable students to explore current trends, discover new and inventive ideas and obtain training using state-of-the-art software tools and data products. Dr. Kirk Karwan, a business professor at Furman University, explains how previously "Furman hadn't really had access to a lot of real-time, up-to-date information" therefore the building of this lab has "challenged and inspired Furman to integrate this type of data, especially concepts and ideas that aren't normally utilized at a liberal arts school".
While many universities have labs of this type, Dr. Karwan clarifies that "while most labs are used specifically as trading and investments labs, the Hurley Finance & Business Analytics Lab is more broadly utilized by courses in a variety of fields. We are analyzing all data, not just in the finance world but also political, technological, scientific and social science spheres. The lab also gives students the ability to video chat with top business leaders around the world, furthering their knowledge and opportunities". Most importantly, the lab will train students to be on the fast track for new, high-paying careers in a variety of fields. With Big Data becoming more popular within a range of industry sectors, this new addition will give students the competitive edge they need while entering the job arena.
The Analytics Lab also contains the Relus Technologies Data Wall (pictured), which will be used to look at industries, stock market movements and other data collections.
By contributing, Relus is hoping to help influence the curriculum in a data-driven world. When a large percent of businesses, including Relus, are primarily technology-based, it is crucial for students of the next generation to be exposed to this new technology. Tricia Carswell, Furman University's Executive Director of Principal Gifts, adds that "as a national leader in technology services, Relus understands the future of big data and its intersection in every area of the workplace. So, when Furman learned that Relus CEO and Furman alumnus, Mark Metz, wanted to provide corporate sponsorship for the lab we were thrilled. Relus' corporate endorsement of Furman's lab confirms the importance of analytics education and its thoughtful application. We look forward to a productive partnership with Relus that generates mutually beneficial internships and projects for our students and the larger community."
Along with the Furman University staff, Mark Metz is also looking forward to the future of the Analytics Lab. "I am thrilled to help a new generation of Furman students thrive in this data-driven world. With this partnership with Furman, we at Relus hope to help prepare Furman students for high-paying careers in data analytics, data science, business intelligence, big data and cloud computing." Mark Metz shared "and – we hope to continue to have internship and career opportunities at Relus for the best and brightest coming from Furman!"
Relus Technologies specializes in information technology solutions that includes products and services designed to help IT organizations maximize the life of their current-state IT environment, while at the same time empowering and enabling them to realize the many benefits of cloud computing. For more information, visit relus.com.