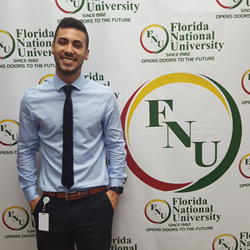 "I like Florida National University, and look forward to studying and working here," ~Jose Suarez
Hialeah, Florida (PRWEB) April 04, 2016
Florida National University (FNU) is proud to welcome their newest Admission's Advisor, Jose Suarez, a 21-year-old Upward Bound Scholar. While he is currently finishing a semester at Miami Dade College, Suarez plans to enroll and attend FNU, majoring in Business Administration.
It seems that Suarez was also born to excel in sales. In addition to his current major in Business Administration, Suarez would refer his friends to the Upward Bound program to make extra money.
"I would get $10 per referral, and it was easy because the program was good," he said.
FNU saw the potential in Suarez, and he is now starting on a career path to success under the direction of the Admissions Department. The university expects great things from the young, business-savvy salesman. He was well prepared from Upward Bound, and looks forward to the opportunities from FNU both as a student and a staff member.
"I like Florida National University, and look forward to studying and working here," says Suarez.
Suarez has traveled far in his time. His family is Cuban; however, Suarez hails from the Canary Islands near Spain. His mother decided to immigrate at the tender age of 24 from Cuba, and later to the United States. At first, Suarez didn't speak English. He found himself learning not just English, but various types of science and math as a student in the Upward Bound program, sponsored by FNU, when he was in high school.
"Once I came to this country, Dr. Cuervo helped me to like science," he said.
According to Suarez, his school overseas didn't teach much of any science unless a student indicated interest.
"I was not a science guy at all," Suarez said.
When asked about his favorite sciences, Suarez smiled and happily answered, "Chemistry." Coming from a diverse background of interests, the young professional is also a dancer of salsa, merengue, and bachata.
To contact Jose Suarez for an interview, call 305-226-9999 or email jasuarez(at)fnu(dot)edu.
####