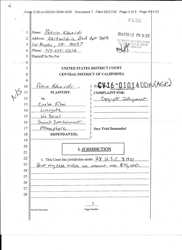 Los Angeles, California (PRWEB) April 05, 2016
Screenwriter Patrice Edwards, who wrote a 2012 script called 'WITCH' has filed a lawsuit alleging that Lionsgate, Vin Diesel, Mark Canton, Kely Lyons, Cory Goodman, Melisa Wallack and Bernie Goldmann have violated her copyright.
The lawsuit alleges that producers hired screenwriters to rewrite the script 'WITCH' and it was subsequently renamed "The Last Witch Hunter." Vin Diesel, Lionsgate, Atmosphere, Cinelou Films and Summit are named as defendants in the complaint filed on February 23, 2016 in the United States District Court, Central District of California, Case No. 2:16-cv-01014-ODW (ARGx).
The complaint alleges that Kely Lyons took the idea for The Last Witch Hunter from Edwards' 2012 script, short film footages, movie trailer and 2014 outline titled 'WITCH,' and gave it to the producers to raise money on TGCfund.com, where film investors often visit. The lawsuit seeks $20 million in damages.
The lawsuit alleges the scripts have a similar premise. According to court documents, both scripts feature a bald character whose wife and child are killed by witches, and spends years hunting down witches.
The lawsuit alleges similarities between the characters' personalities, appearance and dialogue— her script's balded man, Warlock, Ann, priest, Boner, Laura and Donna are allegedly similar to the film's balded man (Vin Diesel), Chloe, priest, young Dolan, Miranda and Warlock. Allegedly, certain scenes involving the characters finding clues and the ending scenes are similar as well.
The Defendants' attorney David Aronoff at Fox Rothschild is representing them. Patrice Edwards, the plaintiff is pro se, self-representing.