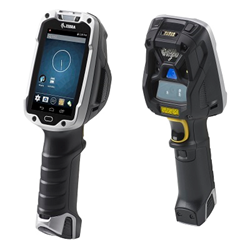 "It's tremendous to witness the efficiencies they're gaining with our mobile solutions." said Bob Fischer, president and CEO of ADSI
Schaumburg, IL (PRWEB) April 04, 2016
ADSI announced today the availability of its robust order packing, verification and shipment processing software, now fully optimized for mobile deployment. With this release, fulfillment staff can move to wherever they're needed most in the warehouse and quickly pick, pack and ship orders on an ergonomic mobile computer using ADSI's Pack-IT and Ship-IT software. ADSI's solution also tracks worker activities at every step in the fulfillment process, providing real-time tracking and visibility into the entire order lifecycle.
"We've always focused on providing robust functionality, but our customers let us know they also wanted our software to run on devices like ruggedized mobile computers and tablets. That's what we've delivered in this release," said Bob Fischer, president and CEO of ADSI, "It's tremendous to witness the efficiencies they're gaining with our mobile solutions."
This latest release also expands the functionality of ADSI's entire product line. "We've just released a new cartonization module that analyzes order contents to determine the optimal carton size for every order," said Fischer. "With this module, shippers can be sure they're using the right package size for the lowest possible shipping cost."
This release also includes:

Enhanced international shipment rating and export document generation
New tools to expedite and simplify the onboarding of new carrier rates and services
Certified integration with FedEx FSMS 2015 and Web Services 2015 software
Certified integration with EDI provider SPS Commerce
Integration with the iDim 100 dimensioning system
Enhanced functionality in Size-IT, ADSI's handheld barcode scanner and dimensioner
ADSI will be demonstrating its entire product line at MODEX 2016 in Atlanta, Georgia, Booth 4078, April 4-7, 2016. "Shippers looking for the latest in mobile shipping solutions in action should definitely stop by. We're demonstrating our new software on the new Zebra TC8000 and a range of mobile devices," said Fischer.
About Advanced Distribution Solutions, Inc.
Advanced Distribution Solutions, Inc. (ADSI) is an industry-leading provider of flexible order fulfillment solutions, dimensioning systems and multi-carrier shipping software solutions for manufacturers, distributors, corporate campuses, online retailers, third party logistics providers (3PLs) and others. For more information, visit http://www.adsionline.com, call us at 847.884.1940 or send us an email at: info(at)adsionline(dot)com or follow on Twitter, @adsionline
Media Contact: Paula Heikell, (575) 952.913.0188, pheikell(at)adsionline(dot)com