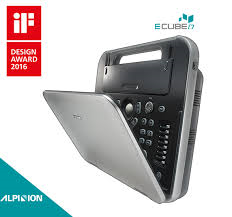 I am very proud of the E-CUBE i7, its design achievements, and the fact that the inspiration for the new portable ultrasound system's design came from one of our customers. - Seok-Bin Ko, CEO
St. Cloud, Florida (PRWEB) April 06, 2016
ALPINION'S newest portable ultrasound system, the E-CUBE i7 recently won FDA as well as the esteemed iF Design Award 2016.
The E-CUBE i7, a portable diagnostic ultrasound system, gave the edge to ALPINION MEDICAL SYSTEMS in winning the iF Design Award for 2016. The iF Design Award is one of the largest and most renowned industrial design competitions in the world. In the category of Health/ Medicine, the E-CUBE i7 HCU (Hand-carried Unit) stood out amongst 5295 entries from 53 nations for this prestigious 2016 international award.
A prestigious jury of experts evaluated the E-CUBE i7 on major criteria including product design, workmanship, choice of materials, innovation, environmental friendliness, functionality, ergonomics and safety. The E-CUBE i7's groundbreaking design makes it the world's first ultrasound system equipped with a sliding keyboard cover. The smart design protects the keyboard from contamination by gel, fluid, blood and dust.
With superior functionality and ergonomics, the streamlined design offers a solution for users who suffer from wrist pain that often accompanies the use of bulky, heavy systems over a prolonged scanning time . The keyboard placement provides support and comfort for a user's arms and wrists when typing and, with the sliding cover closed, allows it to be used as a space for a wrist rest.
ALPINION continues to gain ground in innovation and has already collected design awards for a previous model. In 2011, ALPINION's E-CUBE 9 received the iF Design Award as well as the RedDot Award: Product Design 2011.
Seok-Bin Ko, CEO of ALPINION MEDICAL SYSTEMS, said, "I am very proud of the E-CUBE i7, its design achievements, and the fact that the inspiration for the new portable ultrasound system's design came from one of our customers. In accordance of ALPINION's commitment to a user-focused product design philosophy, we will continue to correspond with end-users working in the field in order to integrate the user-experience and requirements in product development." He added, "This award demonstrates that ALPINION with the E-CUBE i7 has truly gained international recognition in industrial design despite fierce competition with the world's most well-known manufacturers."
About SonoDepot
Floyd McAuliffe, Founder and President along with his brother Jack McAuliffe, CEO, are the owners of SonoDepot and trailblazers of OEM-Independent Ultrasound Support providing superior service to healthcare providers in the U.S. since 1985. SonoDepot, based in Central Florida, is an exclusive sales and service provider for the revolutionary Alpinion Ultrasound product line featuring the E-CUBE series. The company also proudly repairs, services and sells the industry's most respected brands including GE, Philips, HP, and Siemens. SonoDepot's services include ultrasound repair, transducer repair, probe evaluation and maintenance. They are retailers of both new and refurbished ultrasound systems. With a rapid 15-30 minute response time and 24/7 nationwide service, SonoDepot is keenly focused on customer service. 90% of SonoDepot's ultrasound repair clients are repeat customers who refer colleagues.