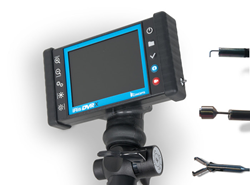 New Industrial Video Borescope with Working Channel
(PRWEB) April 03, 2016
Medit Inc. has launched sales of the new industrial video borescope IRis DVRx-WC ( http://www.fiberscope.net/video-borescope-iris-dvrx-wc.html ). This tool is a timely addition to the reputable IRis product line. The new borescope enhances and expands the capabilities of other IRis devices making the DVRx-WC one of the most outstanding camera on today's market.
As its name suggests, the new tool features a working channel for various optional tools. The diameter of the working channel is 1.8mm or just 0.07'', but it is sufficient for such optional tools as an alligator jaw, a magnet, or a measuring device. Indeed, even though visual inspection may be the main task, often the findings made during an inspection warrant the use of one of the optional tools, and here a dedicated working channel comes in very handy. Still images are saved as .bmp files with a time and date stamp, and video files are stored in the popular .avi format, also with a time/date stamp. For users' convenience the camera comes with two power supply options, a rechargeable Li-ion battery and a 12V power supply.
IRis DVRx-WC borescope, just like all other IRis cameras ( http://www.fiberscope.net/industrial-endoscope-articulated-videoscope.html ), stands out with its unsurpassed durability and longevity. The camera is exceptionally rich in top notch features, such as 4-way full articulation with 360 degree probe rotation, super durable tungsten braided probes available in 2m (6.5') and 3m (10') length options, measurement capacity, a 3-stage adjustable LED illumination and a built-in digital zoom. A high-resolution color CMOS camera chip provides bright, crisp and precise image. Up to 32,000 still photos or as many as 500 hours of video recordings can be stored on a 32GB SDHC card. All these great features make the new IRis DVRx-WC a natural choice for a wide spectrum of visual inspections in all kinds of environments.