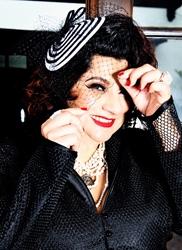 I am thrilled to be hosting this exciting series of BritWeek™ events at my Hotel Shangri-la. Nothing is as personally and professionally rewarding than this amazing opportunity for me to showcase the Sceptered Isle's hottest talent to the U.S.
Santa Monica, CA (PRWEB) April 04, 2016
Following her immensely successful BritWeek™ 2015 events profiling the best of British creativity, renowned art patron Tamie Adaya is once again hosting her signature event series showcasing the Sceptered Isle's hottest talent in film, fashion, modeling and design at her Hotel Shangri-la in Santa Monica. Now in its tenth successful year, Los Angeles BritWeek™ is being celebrated around the city between April 23 and May 8, 2016.
This year, Tamie's BritWeek™ events feature filmmaker and author Phil Strongman, British model and entrepreneur Felicity Hayward, and innovative latex fashion designer Kim West. Save the date for an afternoon poolside 'Village Fête' themed Anarchist's tea party and an evening premiere screening for ANARCHY: The McLaren Westwood Gang, director Phil Strongman's wide-reaching new documentary. As always, Tamie's events celebrating the multiplicity of creative links between L.A. and the U.K. are among the most sought after BritWeek™ programs.
April 24 – 2 pm Anarchist's Village Green Tea Party
This poolside afternoon 'Village Fête' themed Anarchist's tea party features some of Britain's best loved childhood playground games including Guess the Weight of the Cake, Penny Up The Wall and schoolyard favorite, Hopscotch. Complimentary classic post-WW2 British tea and biscuits are served for all. Taking center-stage at Tamie's exclusive tea party this year are British model/entrepreneur Felicity Hayward and designer Kim West, who are showcasing their exclusive latex collection.
Kim West Clothing was established in 1984 and quickly brought latex into mainstream fashion. Her designs have been featured in Vogue, Notion, Volt magazines, pop videos, ad campaigns (Jimmy Choo), on the catwalk at LFW in the House of Holland SS12 collection and worn by icons such as Madonna, Kylie, Isabella Rosselini, Helena Bonham Carter, Jessie J and Rita Ora. Latex is still her signature fabric but Kim has made so many technical advances that it's been re-branded Glyde-tex.
Born in Suffolk, Felicity Hayward moved to London to study a degree in Photography. Leaving university with a First Class Honours, she had her work commissioned to be displayed on the London Underground. Felicity ran various established club nights and events in London, it was at one of these events she was scouted to model for photographer Miles Aldridge. After this shoot was published by Ponystep Magazine in 2012, Felicity was approached by Storm Management and started her career as a model. She has worked with such photographers as Patrick Demarchelier, Miles Aldridge, Dan Jackson, Matt Irwin, Rankin and Mark Lebon. She has also been featured in publications such as VOGUE, GLAMOUR, i-D, Schon! Ponystep & Numero.
April 26 – 7 pm L.A. premiere and screening of ANARCHY: The McLaren Westwood Gang
As a special engagement, Tamie Adaya presents the L.A. premiere for ANARCHY - a documentary focusing on Britain's answer to Andy Warhol: Malcolm McLaren and his partner-in-crime, Vivienne Westwood, who single-handedly changed the course of Western culture forever with their unique brand of subversive, situationism and creativity.
Making great use of candid interviews he conducted with Malcolm in Paris and London, director Phil Strongman has unearthed some stunning, unseen footage about Malcolm's childhood, his 1960s activism and his key role in punk 'anti-fashion'. Three films in one: it's a history of European Anarchism; a biography of McLaren…and a compelling exposé of the real birth of the Sex Pistols (with The Clash, 101ers, Bow Wow Wow, Adam Ant, Boy George, Don Letts, Tony Wilson, Tracey Emin, Stuart Christie, Nick Egan, Vivienne Westwood). Screening is followed by a Q&A.
Where
Hotel Shangri-la Santa Monica, 1301 Ocean Ave, Santa Monica, CA
Open to the public - RSVP required; RSVP(at)shangrila-hotel(dot)com
"Once again, I am thrilled to be hosting this exciting series of BritWeek™ events at my Hotel Shangri-la," said Tamie Adaya, art patron, social architect and owner of the Hotel Shangri-la Santa Monica. "Nothing is as personally and professionally rewarding than this amazing opportunity for me to showcase the Sceptered Isle's hottest talent to the U.S. from this historic art deco hotel in the heart of Santa Monica," she added.
About Tamie Adaya
As a student of art, history, pop-culture, and politics, Tamie Adaya brings a distinctive viewpoint to her iconic Santa Monica boutique hotel property. Long a family treasure, the recently re-branded and remodeled Hotel Shangri-la is a reflection of Tamie's palate—featuring clean, crisp lines, modern lifestyle amenities with a classic flair, an unprecedented attention to detail with a whimsical unpredictability that makes each visit a discovery in self-expression, escapism and pure enjoyment.
An avid traveler and student of modern-day life, Tamie is constantly seeking inspiration from other great cities, famous hotels, famed restaurants and museums, but has also found there is no greater way to be inspired than by bringing diverse and interesting people together at her hotel. From international DJs to writers, professors, photographers, and celebrities like famed British Magician Dynamo who recently filmed an episode of his hit BBC One series, Magician Impossible at the hotel, to just close friends, Tamie often brings her diverse group of friends and associates together for a night of intellectual chat ranging from politics to fashion to the current state of the music industry. A sneak preview screening of PBS' MASTERPIECE CLASSIC Season 2 premiere of the popular British series, 'Mr. Selfridge,' was held at the hotel. Visit https://www.instagram.com/tamieadaya/ to learn more.
About Hotel Shangri-la
The original and urbane Hotel Shangri-la Santa Monica is anything but ordinary and a member of Small Luxury Hotels of the World. Overlooking the Pacific since 1939, the hotel is a striking beacon of Art Deco elegance, a chronicle of the golden era of Hollywood and a quintessential nexus of culture. Hidden away on a high Santa Monica bluff overlooking the ocean and historic Santa Monica Pier, this timeless luxury boutique hotel promises guests their own personal Shangrila. Guests enjoy brilliant views of the Pacific Ocean, a celebrated history and a cultural connection during their stay. In the U.S., for toll-free room reservations only, please call (800) 345-STAY (7829) or for more information, visit http://www.Shangrila-Hotel.com.