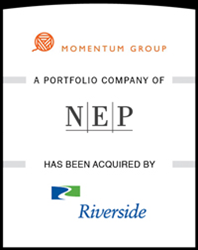 CHARLOTTE, NC (PRWEB) April 04, 2016
BlackArch Partners is pleased to announce the sale of Momentum Group ("Momentum" or the "Company"), a portfolio company of Norwest Equity Partners (NEP).
Momentum is a leading value‐added distributor that provides exclusive, design‐focused sustainable textile products for diversified office, hospitality, healthcare and university end markets. The Company is driven by a culture of continuous improvement and benefits from multiple sustainable competitive advantages, including a proven reputation for innovation, proprietary sustainable products and an award‐winning, in‐house design team with advanced technical expertise and broad product development capabilities. NEP invested in Momentum in 2011 and worked closely with Roger Arciniega, Momentum CEO, and his management team to more than double EBITDA organically and significantly grow revenue. Over the course of NEP's investment period, Momentum strategically focused on innovative product development and operational excellence, sales process enhancements and expanded marketing efforts.
Momentum is headquartered in Irvine, California and employs 150 people. For more information about the Company, please visit themomgroup.com.
BlackArch was retained by Norwest Equity Partners and management to serve as their financial advisor. The transaction was situated in a core area of expertise for BlackArch, Distribution & Supply Chain Management, and adds to the extensive list of premier distribution clients served by BlackArch.
About Norwest Equity Partners
NEP is a leading middle market investment firm that has been investing in growing, profitable, and scalable middle market companies since 1961. The firm has deep experience working with industry‐leading distribution companies, including Bix Produce, Stanton Carpet Corporation, Lindstrom Metric, and Imperial Supplies. More information about NEP and its investment strategy, portfolio and history can be found at nep.com.
About BlackArch Partners
BlackArch Partners is a leading middle‐market investment bank offering a full spectrum of advisory services to financial sponsors, private companies and diversified corporations. BlackArch addresses the needs of owner‐operators, founders and shareholders of private companies with specialized services that include M&A advisory, strategic advisory and private capital solutions. Headquartered in Charlotte, NC, with offices in Houston, TX, BlackArch features a total of 12 industry‐focused practices that cover all sectors of interest to middle‐market investors; BlackArch professionals have closed more than 300 transactions in 16 countries on four continents. Please visit our website, blackarchpartners.com, for more details.
Securities offered through BlackArch Securities LLC. Member FINRA and SIPC. Testimonials may not be representative of the experience of all clients. Testimonials are not a guarantee of future performance or success.