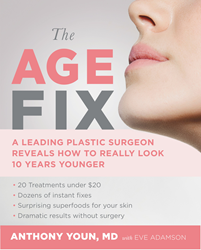 "As you age, you don't have to do anything. Really, nothing at all," says Dr. Youn.
Los Angeles, Calif. (PRWEB) April 05, 2016
Renowned Board Certified Plastic Surgeon, Dr. Anthony Youn, is one of the rare plastic surgeons who tries to keep his patients out of the operating room. After spending 16 years learning the secrets of plastic surgeons, dermatologists, nutritionists, and makeup artists, he's compiled all of their best tips into a new plan to look ten years younger without going under the knife. Now he is sharing these non-surgical beauty secrets with the world through the release of his new book, The Age Fix.
The Age Fix is a complete guide to looking younger and includes DIY at-home remedies, gadgets and non-surgical fixes for virtually every single beauty and aging problem that exists. Dr. Youn informs readers what works and what's a waste of time, and his Age Fix Diet reveals what foods can make your skin look younger than ever before.
"As you age, you don't have to do anything. Really, nothing at all," says Dr. Youn. "Sometimes you are better off living with a cosmetic issue and let aging take its course than trying to fix it. However, if something really bothers you and consumes your every thought, and you know you could (most importantly) feel better and more confident - then by all means, let's fix it!"
For more information about The Age Fix please visit http://www.dryoun.com/books/the-age-fix/
About Dr. Anthony Youn:
Anthony Youn, M.D. F.A.C.S is a nationally recognized, board-certified plastic surgeon who is considered one of the country's best-known experts in looking younger with or without surgery. Recognized as a leader in his field, Dr. Youn is valued for his honest approach and ability to speak to all areas of health and well being.
More than being a regular expert on The Rachael Ray Show, The Dr. Oz Show, and The Doctors, Dr. Youn's expertise has also been featured on Good Morning America, Katie, Today, CBS This Morning, Access Hollywood, Fox News, CNN, HLN, The New York Times, USA Today, and People Magazine. Named a "Top Plastic Surgeon" by U.S. News and World Report and Harper's Bazaar, Dr. Youn is a member of the American Society of Plastic Surgeons (ASPS), American Society for Aesthetic Plastic Surgery (ASAPS), and a fellow of the American College of Surgeons.