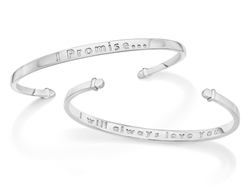 New York, NY (PRWEB) April 04, 2016
I Promise visionary Karen Rosengart has created an elegant jewelry brand with deep emotional resonance. Her stunning collection of bracelets inscribed with promises — that powerfully align with the human pulse — are both boldly vulnerable and gorgeously understated. Now, Rosengart is launching a new website for I Promise that innovatively brings together a community around her heartfelt jewelry line.
"The hardest thing for me has been sharing my personal stories — sometimes it's hard to talk about. But the minute I share, I realize I'm not alone. The bracelets are reminders that no has to walk down the road feeling alone," Rosengart reveals. "The new website has a soft emotional vibe, and it's easy to navigate. It invites people in to share their own stories while also giving consumers a clear vision of the bracelet, how to wear it, and the meaning behind the jewelry line."
Previous to I Promise, Rosengart has had a successful track record in the diamond business and worked in the wholesale jewelry market. For her first line, she wanted to create a lifestyle product that was as meaningful as it was mesmerizing. Her series conjures poise and purposefulness. The bracelets comfortably contour to the wrist and serve as gorgeous daily reminders about what matters most. Currently, I Promise offers sterling silver promise bracelets, rose, white, and yellow promise bracelets, and gorgeous specialty bracelets. These pieces are aligned with charitable organizations including the American Heart Association and JDRF, the leading global organization funding type 1 diabetes (T1D) research.
It all started when Rosengart's daughter came home with the words, "I am always thinking about you and how special you are to me" inked on her arm. While her daughter was away at camp, Rosengart had sent her letters inscribed with that very same message. Seeing her girl making her mother's promise a lifelong commitment stirred something within.
"I remember staring at her arm and realizing I had to do something important," Rosengart confides. "I gave her a gift, and she gave it back to me. I wanted to create something with etching that had the closeness of a tattoo — a message on your skin to remind you of what's most meaningful."
Looking ahead, Rosengart's goal is to fortify I Promise as a lifestyle brand through nurturing the interactive aspect of her platform and through growing each promise message as a distinct thematic marketing entity. "I want this to be a living breathing community with a highly curated platform of mini brands that support charities and different emotional needs."
To celebrate the launch of iPromiseJewelry.com, the jewelry company is offering 10% off by using Promo Code IPROMISE through April 8th.