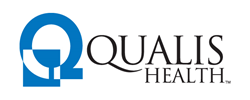 Seattle, WA (PRWEB) April 05, 2016
Qualis Health, one of the nation's leading population health management organizations, has published a white paper, "Producing Accurate Clinical Quality Reports for Population Health: A Delivery System-Oriented Approach to Report Validation." Authors Jeff Hummel, MD, MPH, and Peggy C. Evans, PhD, address the need for healthcare delivery systems to develop accurate and valid data reports for the purposes of internal clinical quality improvement and external public data reporting – and as a vital strategy for successfully participating in value-based payment models tied to quality.
"The viability of today's healthcare delivery systems is increasingly dependent on their ability to identify gaps and quickly close them in order to remain competitive," says Jonathan Sugarman, MD, MPH, Qualis Health President & CEO. "Generating accurate and valid reports is particularly important as payers accelerate the transition to reimbursement systems based on clinical quality outcomes. Qualis Health has the deep health IT experience to guide providers to use electronic health record (EHR) data to manage the patient experience of care, drive clinical quality improvement, monitor and reduce costs, and subsequently report those data for the purposes of payment and transparency."
In January 2015, Secretary of Health and Human Services (HHS) Sylvia Burwell announced that HHS intends to aggressively transition its traditional payment models to one that would tie 85 percent of Medicare payments to quality or value by the end of 2016, and 90 percent by the end of 2018. This shift follows national efforts over the past decade to improve quality and value by optimizing the use of EHRs to capture clinical quality data, and subsequently using EHR data to manage population health.
Authors Hummel and Evans describe fundamental aspects of data reporting, including different methodologies for generating clinical quality reports, the purposes for which the data can be used, tools that can be used for report validation, and a step-by-step process for identifying and correcting errors.
The white paper, available at hit.qualishealth.org/resources, is the seventh in a series of landmark white papers issued by Qualis Health to guide the effective use of health IT.