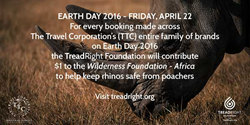 The plight of the rhino is a global 'all-hands on deck' problem, so we are getting everyone we can involved.
DELRAY BEACH, Fla. (PRWEB) April 05, 2016
The TreadRight Foundation, created as a joint initiative between The Travel Corporation's (TTC) family of brands, has announced that it will support the Wilderness Foundation – Africa this coming Earth Day.
For every booking made on Friday, April 22, 2016 with any of TTC's 30 award winning brands around the world, the TreadRight Foundation will donate $1 to the Wilderness Foundation – Africa to help purchase more flight time for their TreadRight Bat Hawk.
A specially designed lightweight sport aircraft purchased by TreadRight for the Wilderness Foundation – Africa as part of the Wildlife Initiative, the TreadRight Bat Hawk is an important tool at the Wilderness Foundation's disposal when it comes to combatting rhino poachers in the field. One of the biggest hurdles facing rhino conservation efforts is the sheer size of the area rhinos inhabit. Game reserves span hundreds of thousands of miles and rhinos have home ranges that can extend hundreds of miles. Being able to take to the sky is hugely beneficial in covering this expanse.
While much more cost efficient to operate than a helicopter, there are still expenses associated with operating the TreadRight Bat Hawk, such as fuel and pilot time, as well as basic maintenance and upkeep of the aircraft.
Each dollar donated by TreadRight to the Wilderness Foundation – Africa as part of the Earth Day campaign will go directly towards purchasing additional aerial patrol time for the TreadRight Bat Hawk, meaning more protection for threatened rhinos.
"Wildlife organizations face an uphill battle against a well-funded and ubiquitous adversary. If organizations like the Wilderness Foundation – Africa are going to win the dire fight to save the rhino, and it is a fight we have to win, they require leading technology and tools in order to do so," explains Brett Tollman, CEO, TTC and Founder, TreadRight Foundation.
"That is why each of our travel brands across the planet is participating in this important Earth Day campaign helping to purchase more flight time for the TreadRight Bat Hawk. The plight of the rhino is a global 'all-hands on deck' problem, so we are getting everyone we can involved."
The extremely erroneous and harmful belief by some that rhino horns can cure fevers, blood disorders, gout, cancers and a plethora of other ailments has brought all five remaining species of rhino to the edge of extinction. In the past four decades, 95% of rhinos have been wiped off the planet for their horns.
The Wilderness Foundation - Africa supports conservation agencies and organized private game reserves in protecting rhinos as part of a functioning natural ecosystem. The organization also aims to focus the attention of politicians and decision-makers and encourage them to apply pressure to address the issue of illegal trade in rhino horn and other wildlife products.
For more details, please visit TreadRight.org. Join TreadRight's social media community at facebook.com/treadright or twitter.com/TreadRightOrg using the hashtag #LetsTreadRight.
About The Travel Corporation
The Travel Corporation is a highly successful international travel group. Our philosophy is simple. To create enriching experiences for our travelers by combining an unbeatable mix of exceptional service and quality at great value. No matter what your taste, whether you are a family or a couple, a group or traveling solo – TTC offers something for everyone. Our multi-award-winning portfolio ranges from luxury hotels and boutique river cruises, to independent holiday package companies and a variety of guided travel experiences.
About The TreadRight Foundation
Created as a joint initiative between The Travel Corporation's family of brands, The TreadRight Foundation is a not-for-profit that works to help ensure the environment and communities we visit remain vibrant and preserved for generations to come. To date, TreadRight has supported more than 35 sustainable tourism projects worldwide. The foundation's guiding principle is to encourage sustainable tourism development through conservation, leadership and support for communities.
TreadRight's past project partners include WWF, Conservation International and The National Trust in the UK. Current initiatives include sponsoring the National Geographic Society's inaugural "World Legacy Awards," helping to combat wildlife crime with WildAid, and empowering individuals with the Alliance for Artisan Enterprise.
To learn more about our past and current work at TreadRight, please visit us at TreadRight.org.
###