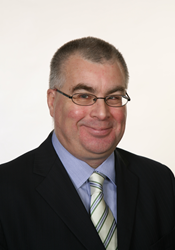 "We must address inefficiency in skills usage in the O&G workforce and prepare for the oil price recovery when greater agility will be needed."
Evergreen, Colorado (PRWEB) April 05, 2016
The Professional Petroleum Data Management (PPDM) association's 2016 Houston Data Management Symposium and Trade Show next week in Houston, Texas will feature Simon Bates, oil and gas industry expert of international knowledge process outsourcing provider The DDC Group. Bates will discuss the "Necessary Evil Time" concept as it relates to data management practices within the oil & gas sector.
Bates has nearly 30 years' management experience of offshore outsourcing projects with the Philippines. His specialties include: Knowledge Process Outsourcing (KPO) in the oil and gas vertical, service scoping, technical and procedural documentation, and external and internal customer support.
The educational session is based on Bates' article published in the PPDM quarterly journal, Foundations Volume 3 Issue 1. The article details the idea behind raison d'être time (RET), which occurs when hired experts complete assignments appropriate to their hired talents. Bates also introduces Necessary Evil Time (NET): When the same experts spend time preparing for or reporting on RET. An example of this is an engineer spending time transferring data from daily drilling reports (DDRs).
By utilizing a cost-per-unit output equation, Bates breaks down the time and money lost by oil and gas companies when their RET: NET ratios are not profitable, as well as providing suggestions for improvement and best practices for implementation.
"The O&G sector is looking for ideas to support sustainable cost savings and efficiency, now and for the future," said Bates. "Therefore, we must address inefficiency in skills usage in its workforce and prepare for the oil price recovery when greater agility will be needed."
The session, entitled "Necessary Evil Time: Retaining Expertise, Outsourcing Productivity" will take place on Monday, April 11, from 3:20 to 3:50 p.m. in Azalea 1 and 2 of the Westin Memorial City in Houston.
About the Professional Petroleum Data Management Association (PPDM) and the Houston Data Management Symposium
PPDM Association Events are specifically designed to facilitate collaborative idea sharing, discussion and networking. The 2016 Houston event fosters a unique environment designed specifically for individuals in the petroleum data management industry, from Data Analysts to CEOs, to find out what is new in the industry, share experiences and knowledge, and network with peers and colleagues. To learn more, please visit https://www.ppdm.org.
About The DDC Group
The DDC Group has been designing and implementing business and knowledge process outsourcing (B&KPO) solutions since 1989. With operations across North America, Europe, and Asia-Pacific, the company's 3,500 strong staff delivers services in over 40 languages with ahead-of-the-curve industry standards. DDC's hybrid shared service delivery model equips its clientele with strategic BPO solutions fundamental for each organization's future profitability. For more information, please visit (http://www.theddcgroup.com/).