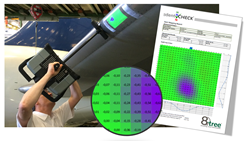 Englewood, Colorado & Konstanz, Germany (PRWEB) April 06, 2016
8tree LLC announced today that Airbus, in conjunction with the French National Laboratory for Metrology & Testing (LNE), issued a formal report detailing the successful certification of 8tree's dentCHECK® and fastCHECK® products. dentCHECK will be listed in the official Airbus repair and maintenance manuals very soon. Meanwhile, airlines, upon request, can now receive approval letters authorizing use of dentCHECK for line and heavy maintenance. The very exhaustive tests leading up to the certification validated 8tree's published specifications.
"These test results are no surprise for the team at 8tree. However, the certification by industry leaders like Airbus is a significant validation of 8tree's elegant approach to solving complex surface inspection problems by empowering the operator on the shop-floor. We at 8tree are honored by this recognition," said Arun Chhabra, CEO of 8tree. "As a result of this certification, major airlines and MROs globally are rapidly stepping up their ongoing adoption of dentCHECK. It delivers instant 'go/no-go' SRM-compliant results which allows carriers to accelerate aircraft turn-around-time, thereby improving Revenue per Available Seat Mile (RASM)."
dentCHECK is a handheld, portable 3D surface inspection system that delivers simple 1-button dent-mapping & corrosion blend-out analysis, which are presented as instantly actionable SRM-compliant and easy-to-understand 'go/no-go' color-coded results. In less than 2-seconds, dentCHECK calculates reliable and consistent A / Y measurements.
8tree's unique SRM-compliant 1-Click Analysis Report™ is transferred seamlessly to an MRO operator's secure servers using WiFi or USB. The report equips operators with critical information, such as A / Y measurements, deformation color-maps with numerical annotation, distance to next stringer/frame, and detailed measurement logs (zone #, time-stamp, operator ID, part ID, etc.) to facilitate quick SRM compliance that is tailored to an airline's specific requirements.
With 8tree's patented product design and augmented reality presentation of results directly on the surface of the aircraft, The Surface Becomes The Screen™. As with all 8tree products, user-programming is never required. dentCHECK has been shipping to major airlines since last year.
At this week's MRO Americas, 8tree will demonstrate dentCHECK in conjunction with a revolutionary cloud-based aircraft condition tracking (ACT™) system from ReadyFlight™. ACT™ will be available to both large and small operators as a standalone system and may also be integrated into other IT systems.
For more information, please visit 8tree at booth #2356 at MRO Americas, April 5-7, 2016 in Dallas, TX (USA), and always at http://www.8-tree.com.