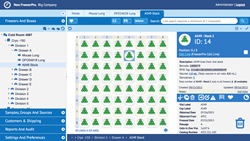 Version 7.1 delivers many new user requests, legacy customers stand to benefit, and RURO likes it when our updates are beefy.
Frederick, MD (PRWEB) April 06, 2016
RURO, Inc., a leading LIMS, and other sample management solutions provider announced the release of FreezerPro® Version 7.1, the latest version of the bestselling Sample Management Software.
Summary:

FreezerPro® Version 7.1 is the first update to the sample management software of 2016
Much of the content featured in 7.1 expands FreezerPro's list of supported hardware, including integration with Hamilton's BiOS™ automated frozen storage technology.
Users with an active Support Subscription may obtain the update for free
Since its first version almost a decade ago, FreezerPro® has offered labs a fast and cost effective way to partially automate sample check in/out and aliquoting, as well as greatly enhance data mining and reporting capability. As a "one size fits all" software offering, FreezerPro® has always been appreciated for the vast set of user tools it offers; while requiring days, rather than months, to deploy and implement. Now, Version 7.1 continues to add capability, as well as dozens of "minor" fixes and improvements.
FreezerPro® Version 7.1 features:

Integration – Hamilton BiOS™ -80C Automated Storage now available
Expanded Hardware Support – DYMO label printers, TracerX code readers added
Security Assertion Markup Language (SAML) Support for Single-Sign-On functionality now available
Swedish Country Settings added
GLP Mode enhanced and expanded
Additional API Content added for easier documentation and coding uses
"The FreezerPro® Cloud and some exciting new partnerships have introduced a whole new group of FreezerPro users," says Vlad Lebedev, RURO's Chief Executive Officer. "Every time that happens, everyone wins – Version 7.1 delivers many new user requests, legacy customers stand to benefit, and RURO likes it when our updates are beefy."
All current FreezerPro® customers with an active support subscription can download Version 7.1 for free. Customers without an active support subscription should contact (888) 881-7876 or support(at)ruro(dot)com for information.
About RURO, Inc.
Founded in 2006, RURO specializes in Laboratory Information Management Solutions. RURO's Limfinity® is the central data management solution in many of the world's leading Translation Science programs and Biobanks. RURO is Laboratory Information Bliss. Visit RURO at ruro.com for more information.
# # #